Mack Chat Podcast
Eau Claire Hometown Radio produces the 30-minute podcast for MACS, featuring a wide variety of guests with ties to the MACS community.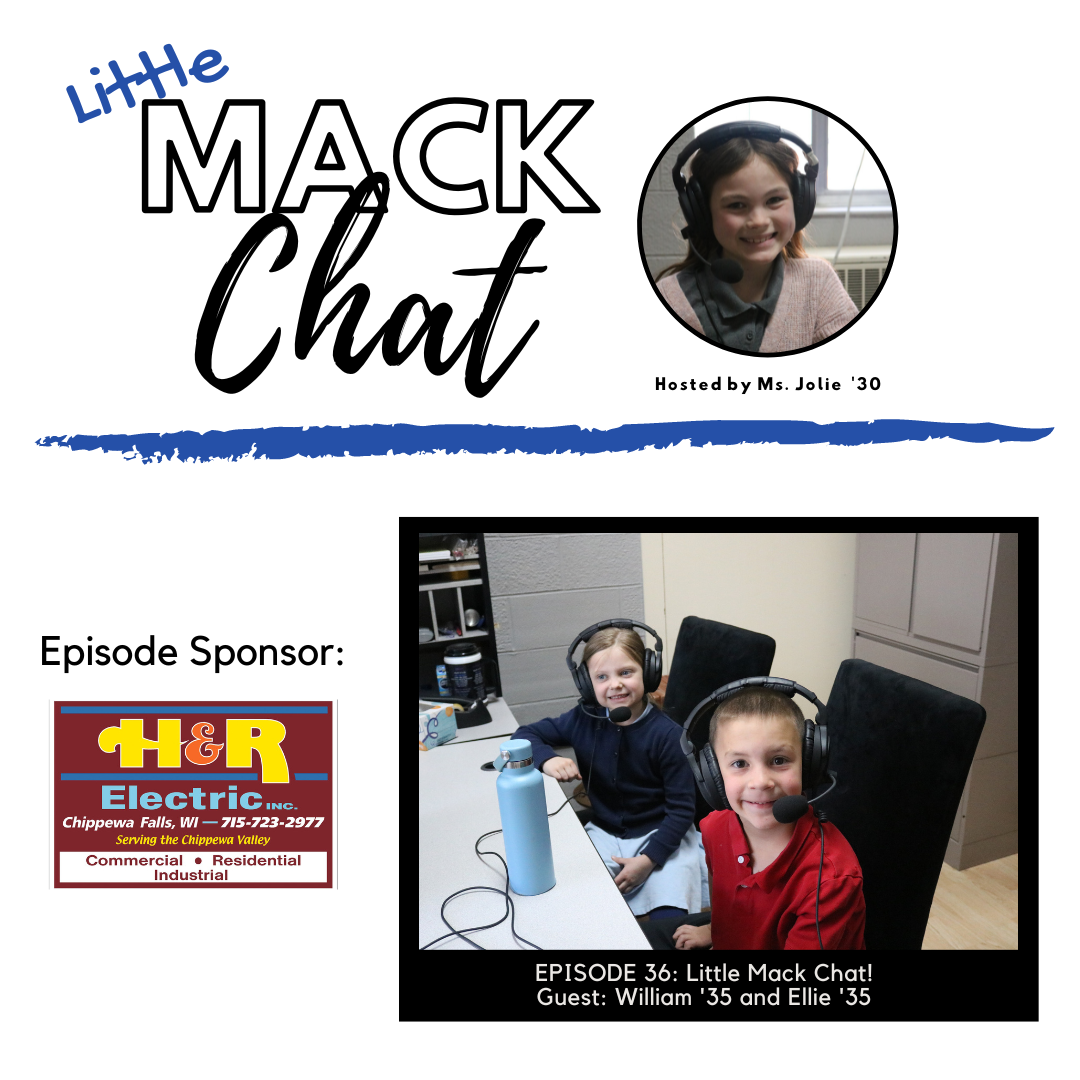 Episode 36: Little Mack Chat
Jolie, a fifth grader in the McDonell school system is our special guest host. Special guest host. She talks to a couple of kindergartners at St. Charles for an adorable episode.
What are their favorite and least favorite things about school. Ellie tells us the shocking thing she eats for lunch every day. Will talks about being the middle child in his family.
---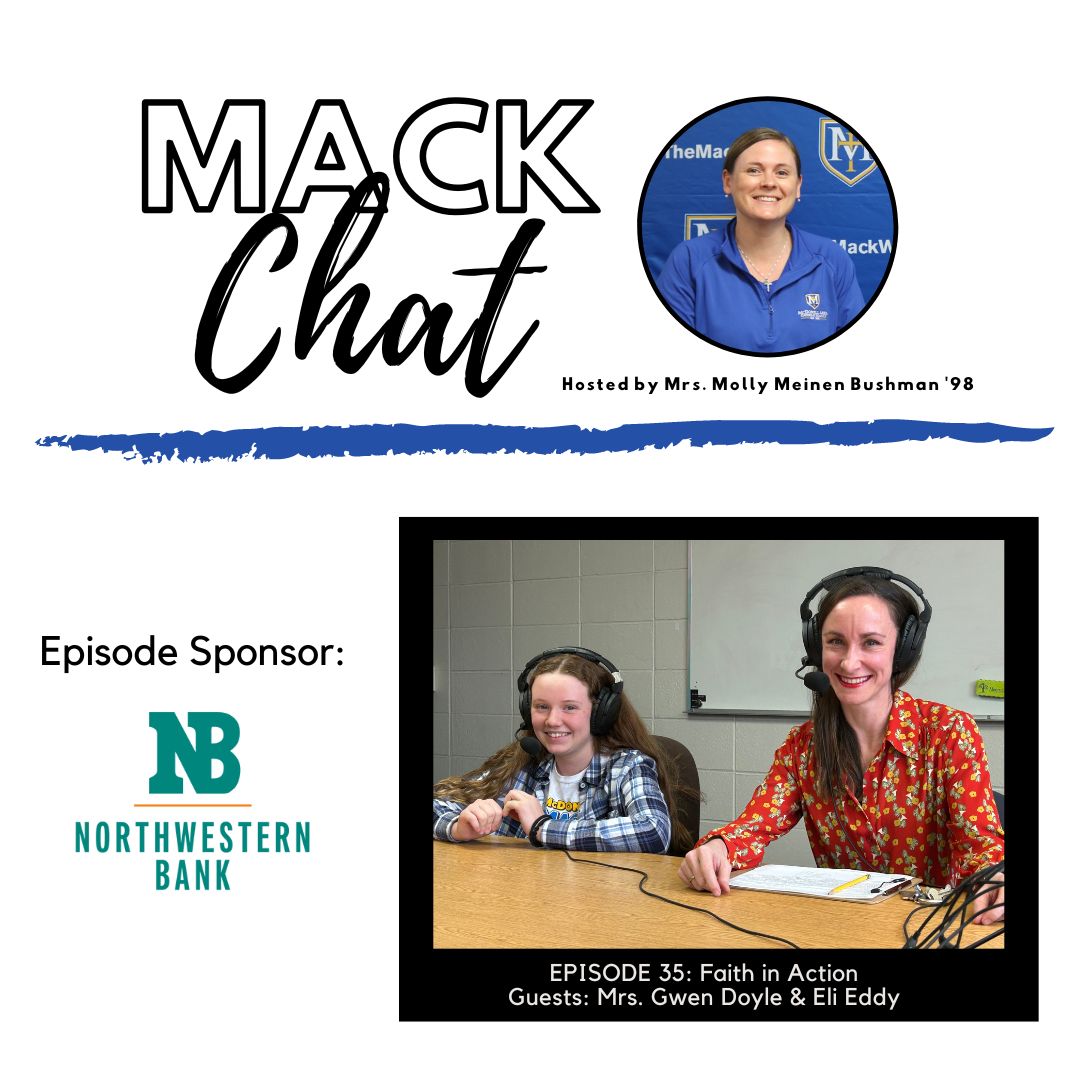 Episode 35: Faith in Action
Gwen is a third year religion teacher at Notre Dame Middle School who also has her own children in the system. Eli is an eighth grade student who is actively involved in the district, including student ambassadors.
How does faith play a role in both of their lives?
They detail a recent mission project. How it was decided on and the process Gwen took middle schoolers through.
Faith and a sense of belonging.
---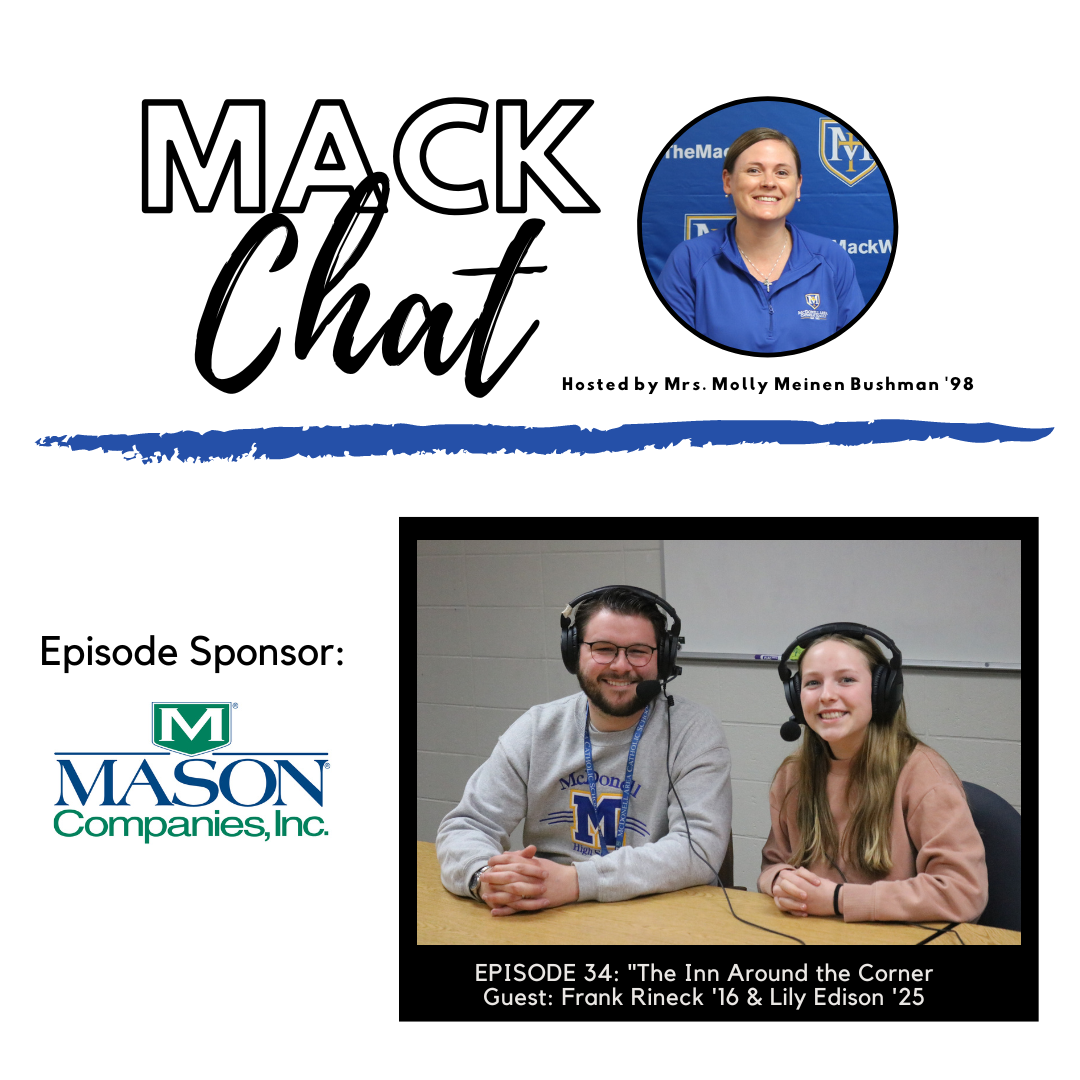 Episode 34: "The Inn Around the Corner"
While musicals have a long history at McDonell, plays are relatively new, including the 2023 spring production of "The Inn Around the Corner" (April 27-29).
Lily and Frank are here to promote not only the production but the entire theatre program at McDonell. Frank is a '16 graduate of McDonell and has returned to be an English and Social Studies teacher.
However, his experience in theatre is extensive, going all the way back to when he was a kid. He has helped spearhead expanding the theatrical offerings at the school.
Lily is a sophomore, and the spring play is her seventh production with the theatre program. She started in the ensemble and has worked her way up the cast list over the years. What is it about acting that excites her and the way it has benefited her off stage?
---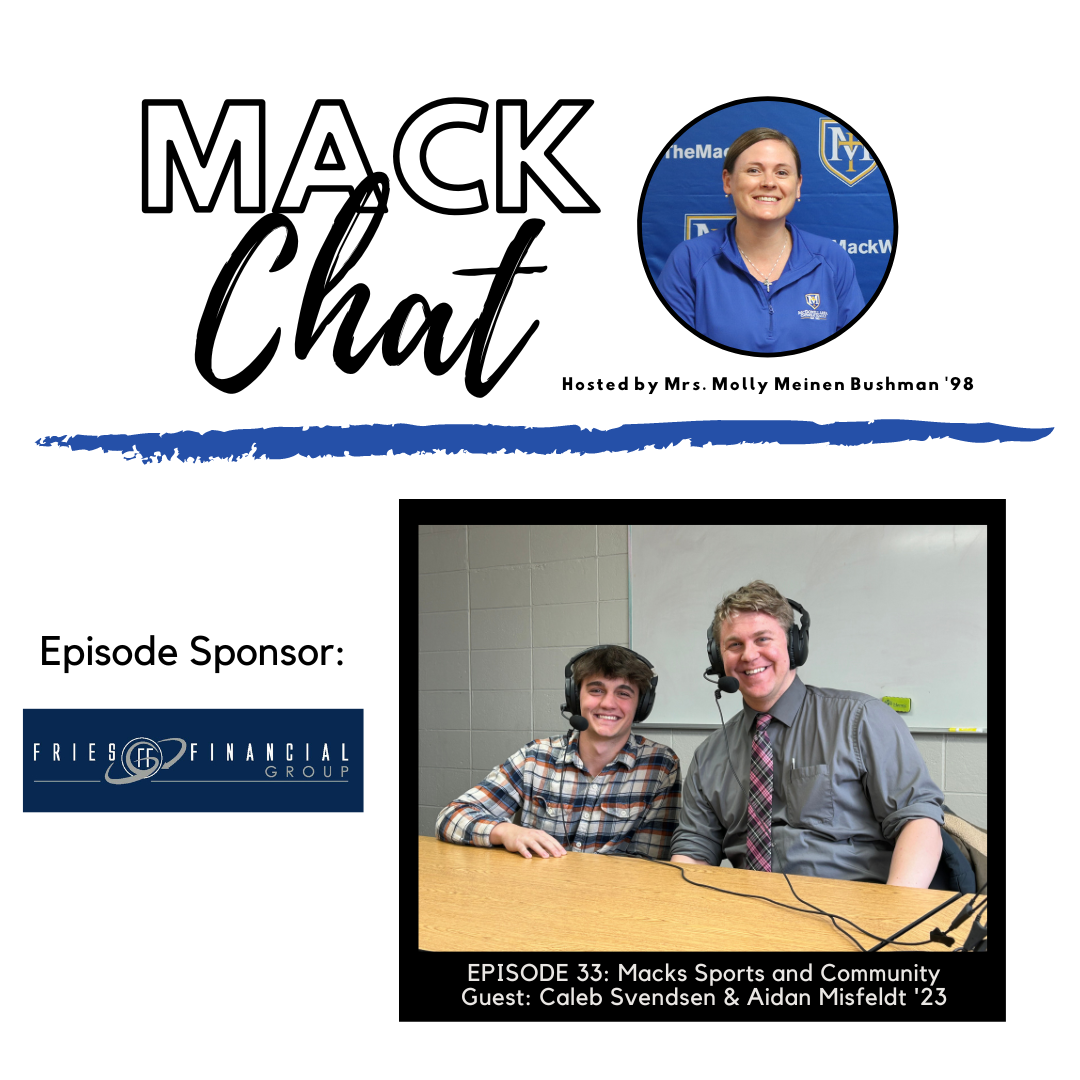 Episode 33: Macks Sports and Community
Macks athlete Aidan along with WOGO play-by-play "Voice of the Macks" Caleb stop by to update everyone on how the 2022-2023 athletic schedule has gone for McDonell. Most notably, both the boys and girls basketball teams recently reached the state tournament with the girls winning the whole thing.
They go deep into the connection between the school, athletics and the Chippewa Falls community. The impact and role of faith within the program.
---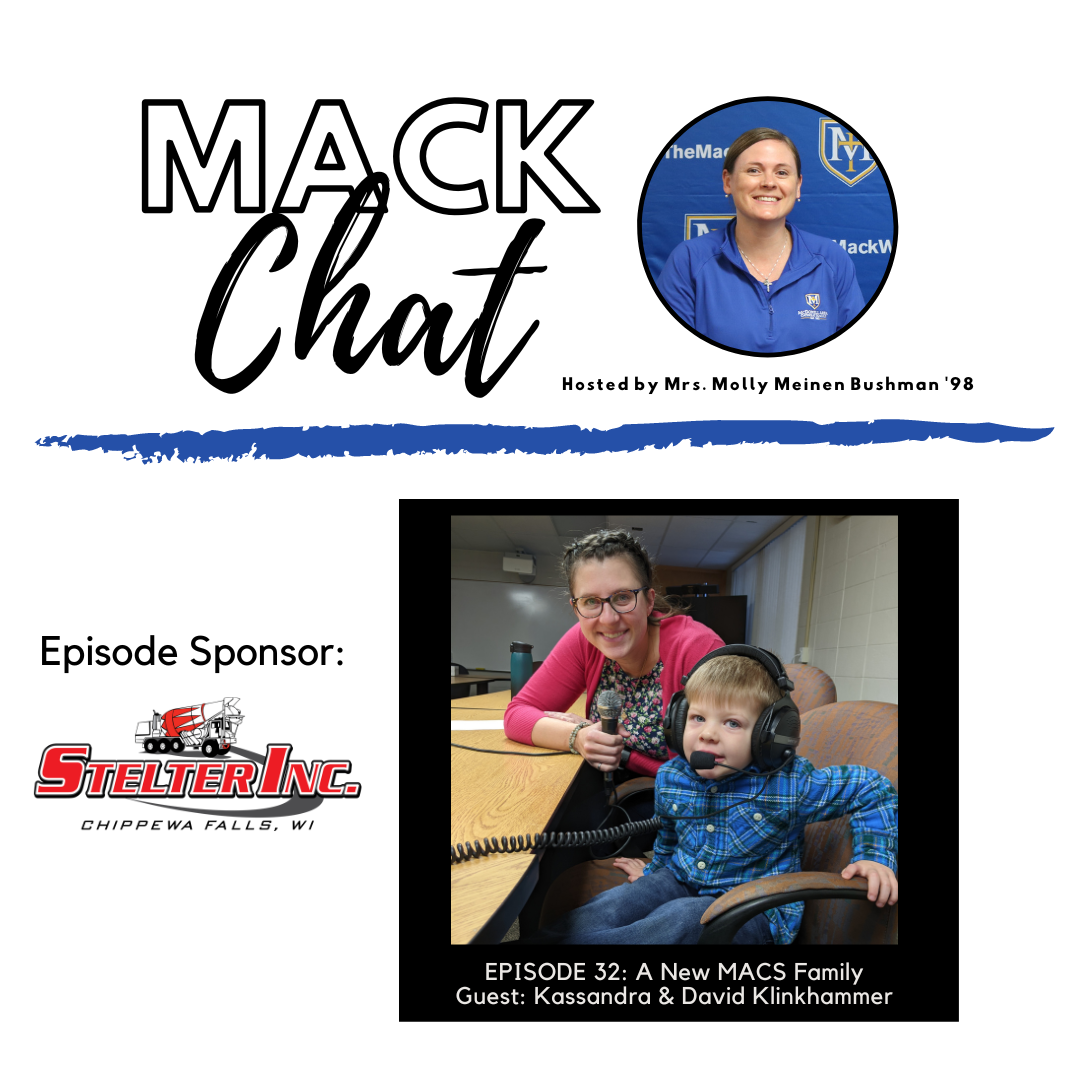 Episode 32: MACS Welcomes a New Family
Mack Chat welcomes a new family to the area. Kassandra and her son David moved from the Twin-Cities to Chippewa Falls for a community connected with the Catholic faith. She is starting a program at McDonell called The Catechesis of The Good Shepherd. The starter program helps children feel connected to the faith.
As the enrollment season is upcoming, we learn the importance of quality education built around the Catholic faith.
---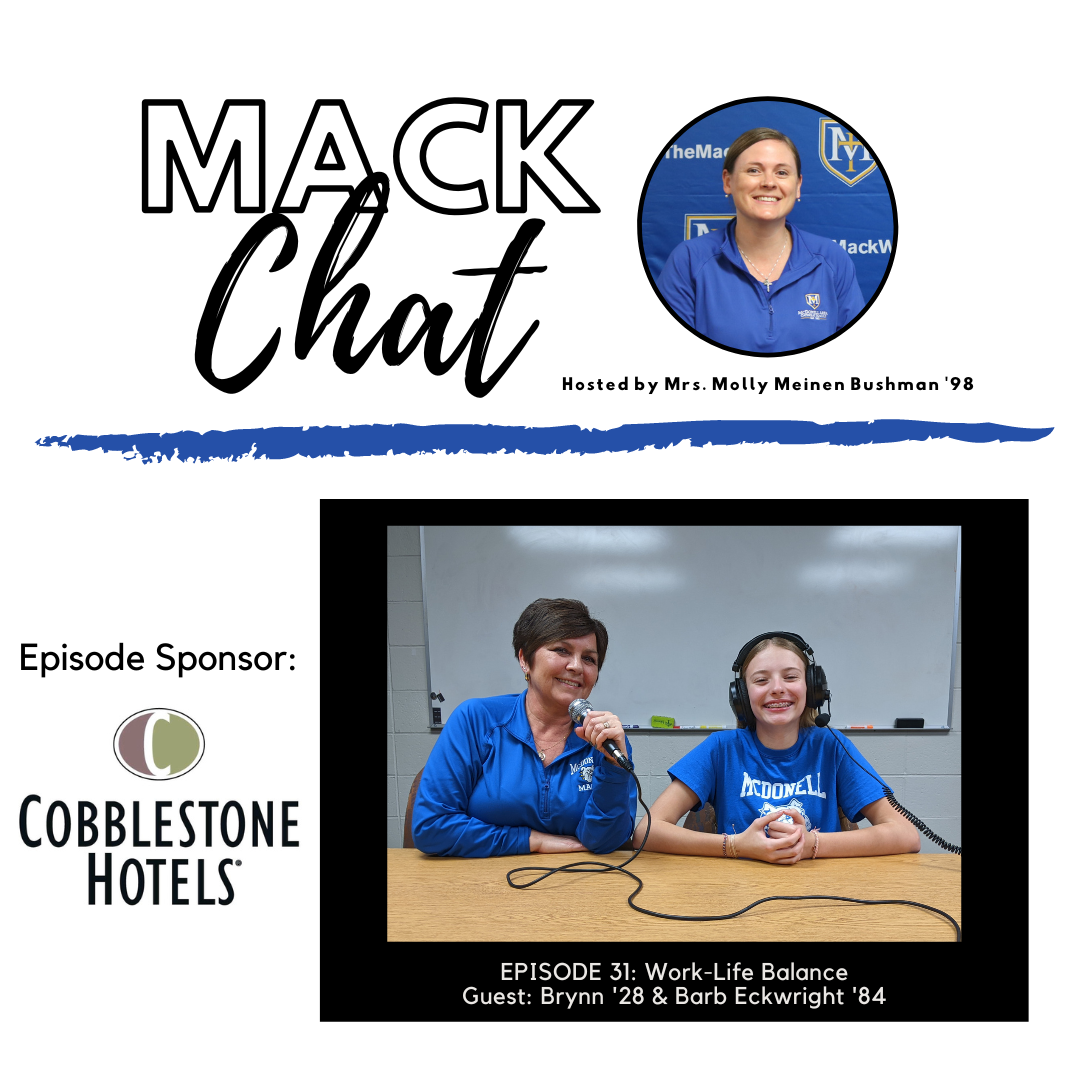 Episode 31: Work-Life Balance
Mack Chat brings on a veteran teacher and a Middle School student to speak about the importance of a work-life balance, the changes in education, and the impact classes offered have on faith growth. Barb is a 3rd grade teacher dedicating her time to bettering education for the kids in the McDonell community.
Brynn is a 7th grade student voicing her appreciation towards teachers and father.​
This emotional conversation highlights the importance of children belonging and feeling loved.
---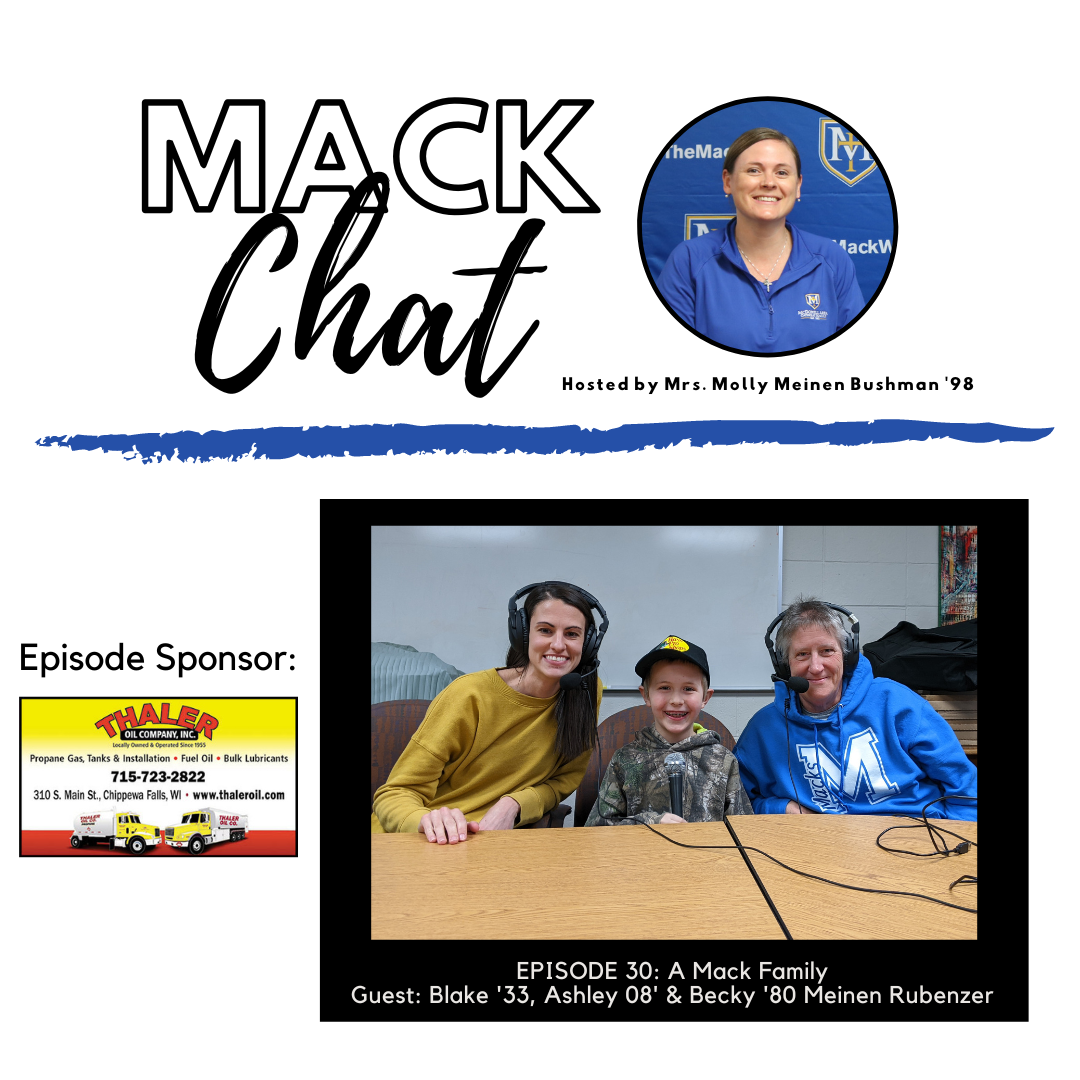 Episode 30: A Mack Family
A family with generations of volunteering involvement tells us all about their connection to McDonell. While a number of new families enter the system annually, McDonell is also proud to have served multiple generations of others. Find out why the Rubenzers stay with McDonell year after year, generation after generation.
---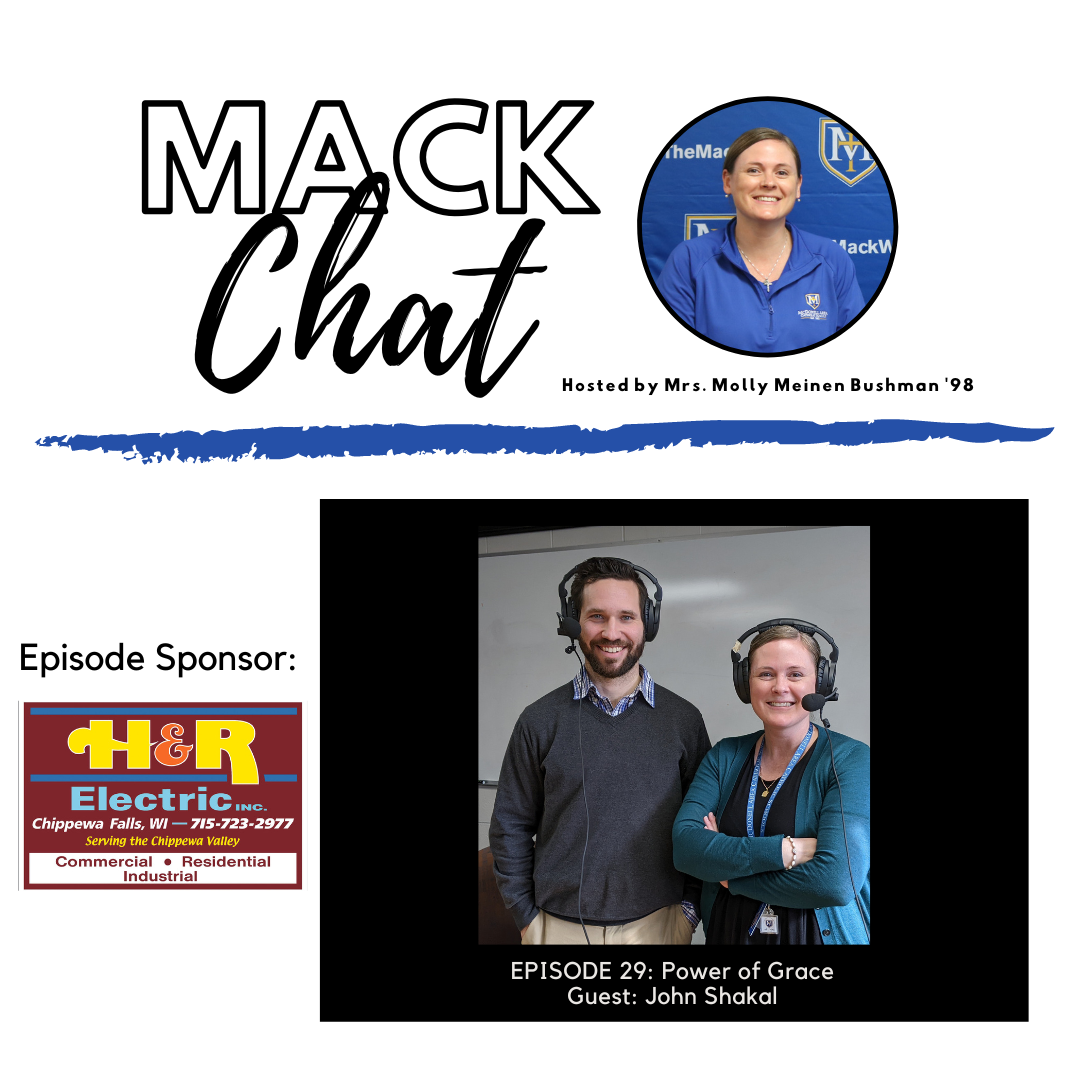 Episode 29: The Power of Grace
John Shakal, who is the Director of Evangelization and Outreach for the Church of Notre Dame, one of MACS' supporting parishes, shares his story, including the successes of the OCIA and other parish programs, the Eucharistic Revival, and the power of grace in our lives.
---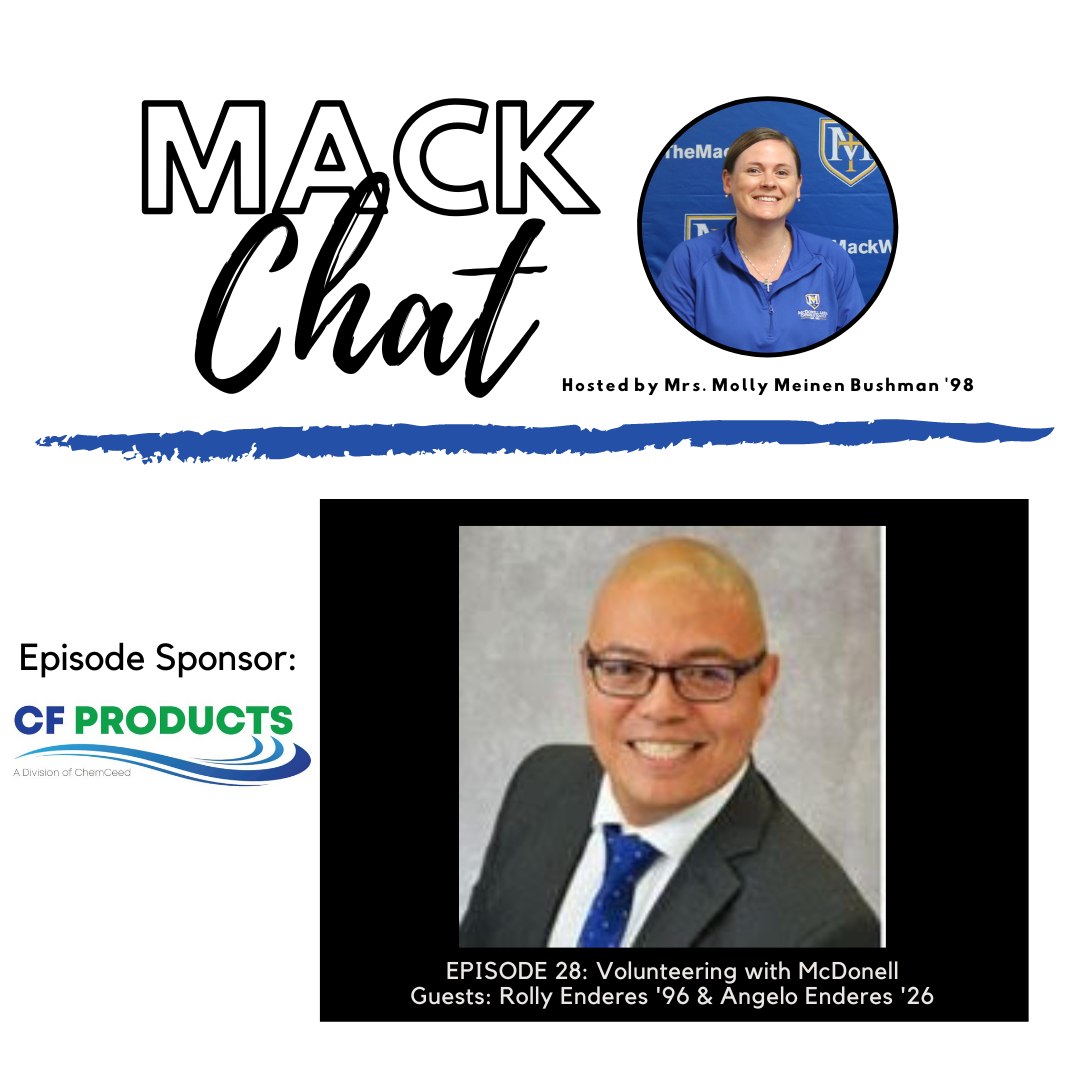 Episode 28: Volunteering with McDonell
A father-son duo jump on the program covering a range of topics. Rolly discusses his various volunteerism involvement and giving back to a school district he is a graduate of. He takes us through his path that includes starting and running his own company. Angelo provides us with the student perspective, including previewing the upcoming "School of Rock" Musical being performed by students on February 2nd-5th. Making the choice to send your child to McDonell. The various opportunities parents have to be involved.
---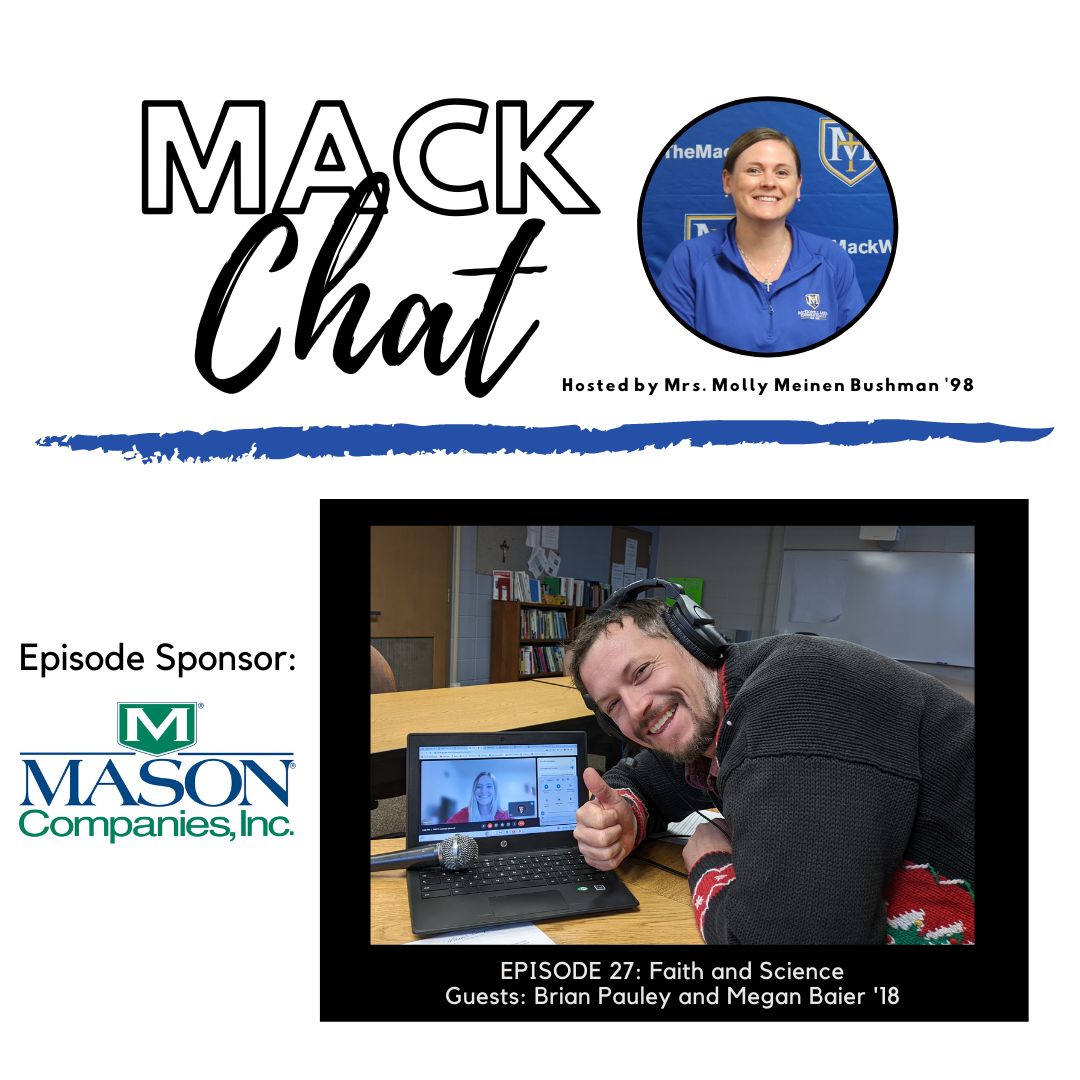 Episode 27: Faith and Science
Guests are McDonell Central Catholic High School Science Teacher Brian Pauley and Medical Student Megan Baier '18 discussing how a McDonell education can prepare a student to excel in biomedical science. Megan shares how her faith and relationships from McDonell are still important to her today. Brian shares how he enjoys the thrill of discovery in students and infuses the faith into the science lab.
---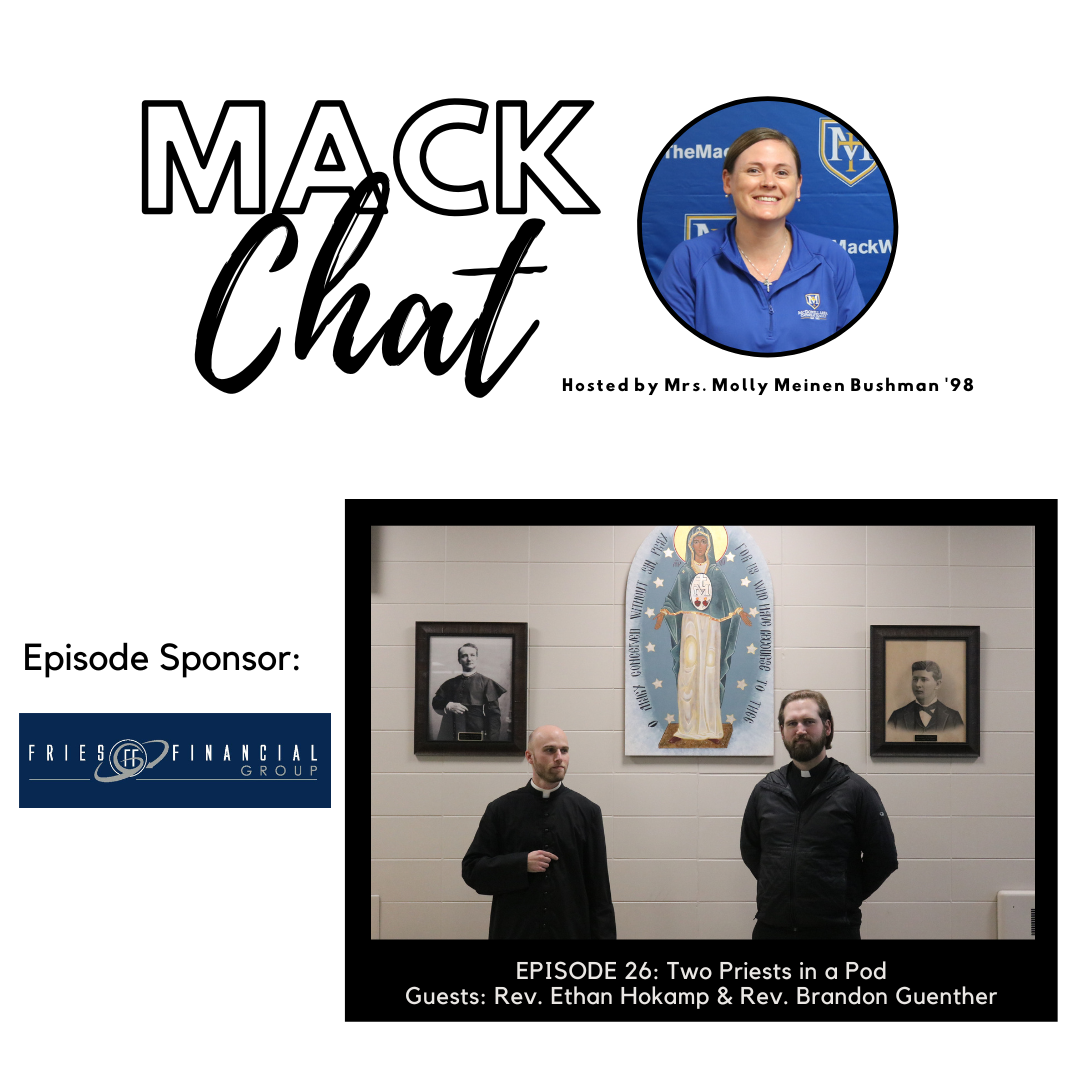 Episode 26: Two Priests in a Pod
Molly welcomes a pair of Chippewa Falls area priests onto the podcast. They detail their path into the priesthood, which didn't necessarily involve being from "super religious" families or other assumptions some may. We also learn what the path to becoming a priest involves.
How guidance from others influenced and helped them see God's plan for them. Re-defining happiness from what they are thinking to what God's idea is.
Father Hokamp discusses his passion for the Latin language
Father Guenther explains where his enjoyment and ability to cook French cuisine came from.
---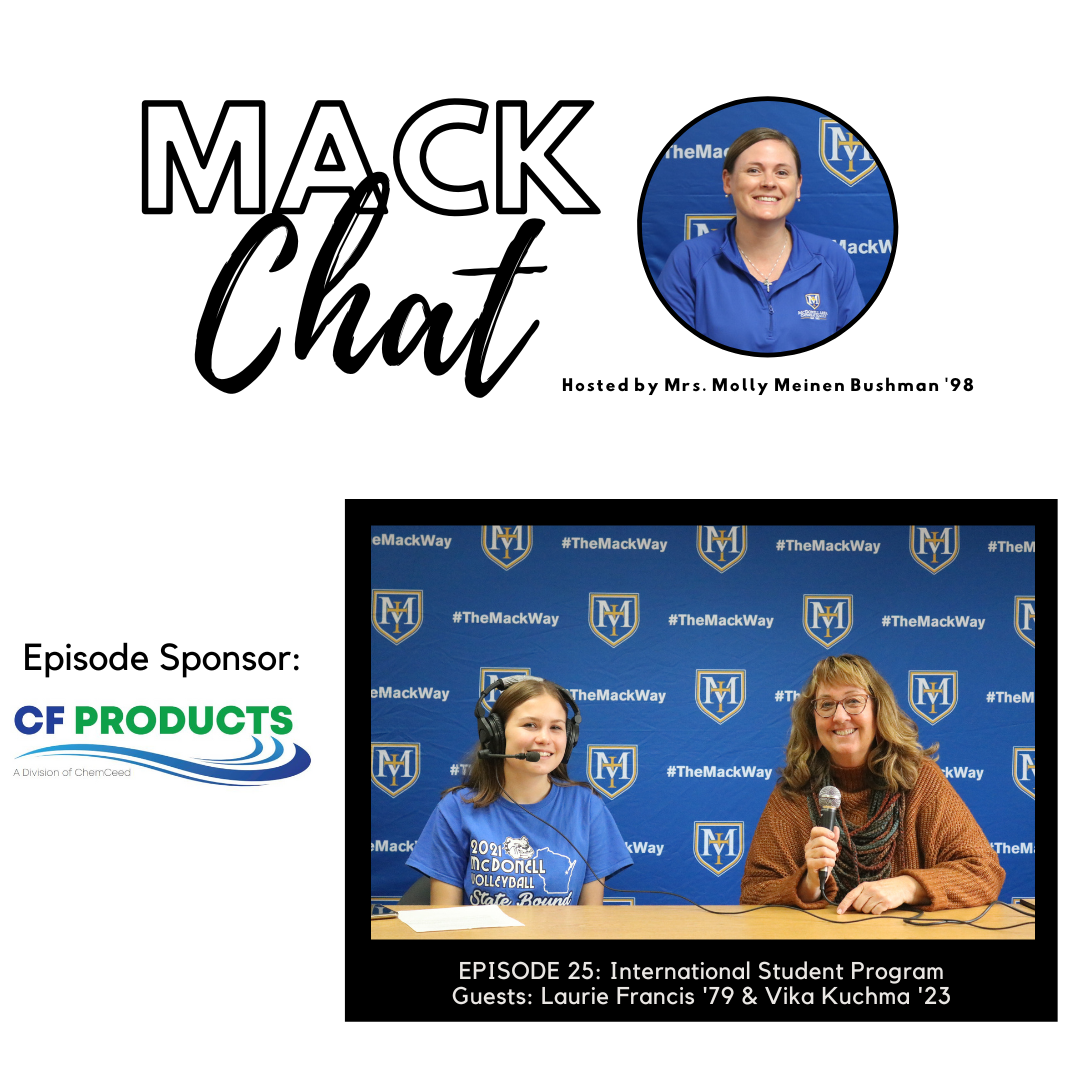 Episode 25: International Student Program
In this podcast we're highlighting the international student program at McDonell. Laurie leads the international student program at the school and assists the relationship between the students, the school, and the community. We learn how her passion for traveling and experience teaching internationally led to her jumping at this opportunity.
Vika, from Ukraine, provides the perspective of a foreign exchange student enjoying her second year at McDonell. Not only her time in our area, but what got her involved in being an exchange student and the influence of her faith.
Tune in and find out all the different nations that are represented at McDonell.
---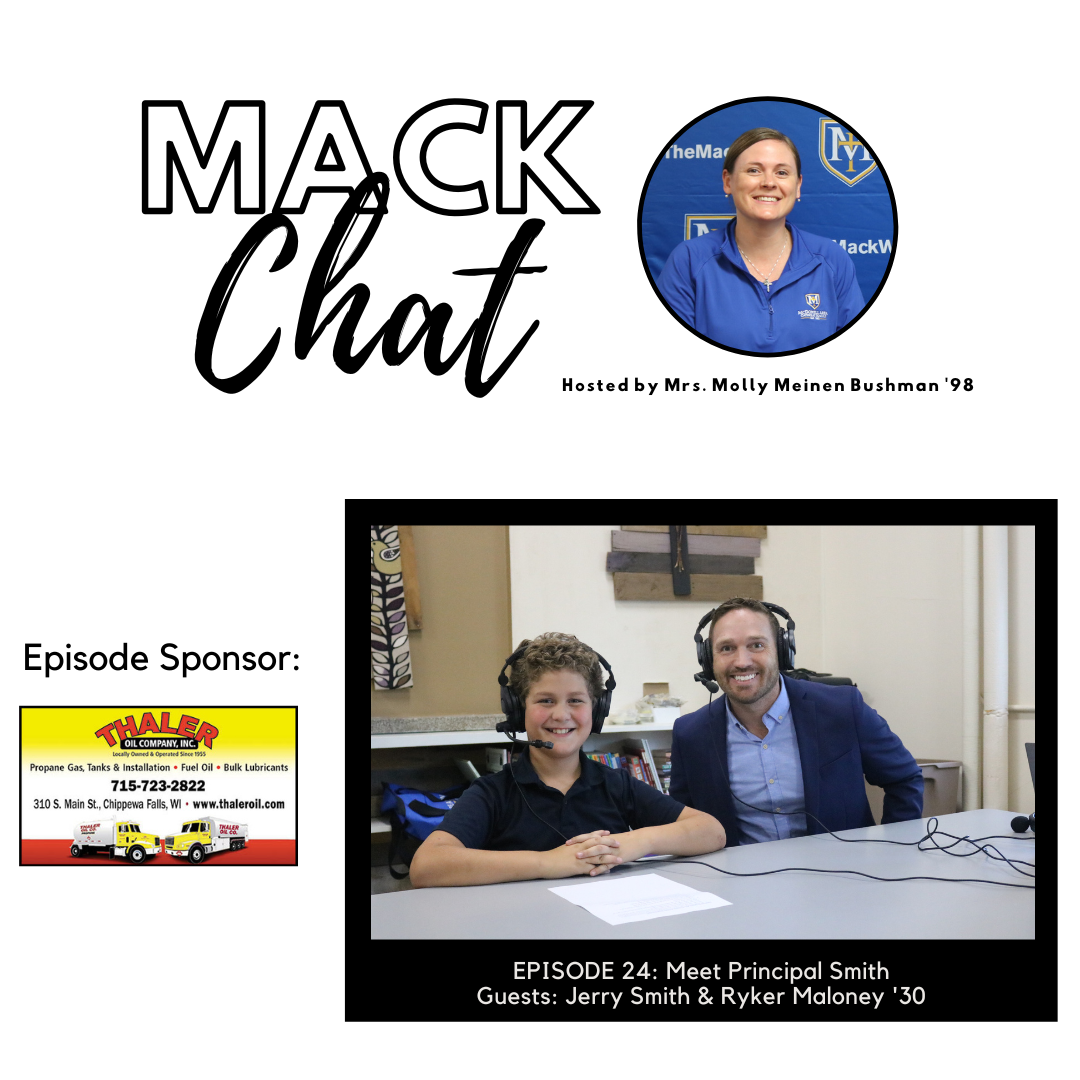 Episode 24: Meet Principal Smith
Molly heads to Holy Ghost Elementary school to chat with the principal, Jerry Smith, and one of the students, Rykar Maloney.
Rykar gives us a student's perspective and Jerry dives into what it has been like to enter into school administration and his sports background. We also learn where Jerry's noticeable accent comes from.
They also detail their faith journey, which are unique. Rykar is going through the process of communion while Jerry was initially raised in the Baptist faith. Both are attending OCIA/OCIF to help them on their faith journey. You can learn more about the OCIA/OCIF programs at the link below.
https://www.ourladyofthefalls.org/search-for-god-ocia
---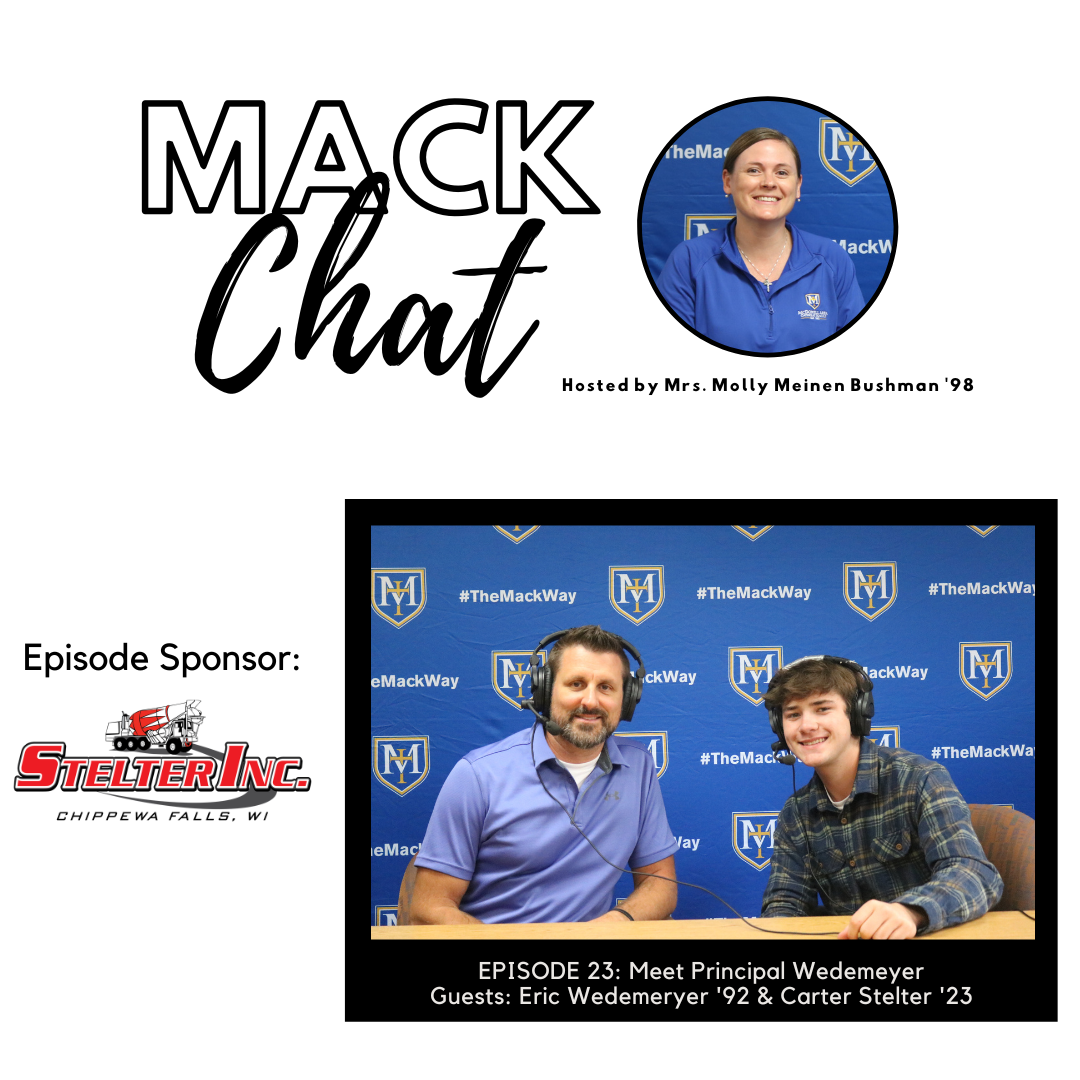 Episode 23: Meet Principal Wedemeyer '92
Carter is a student and Eric is the principal at McDonell Central Catholic High School and gives us their perspective on what's happening in the McDonell community.
Eric, who is an alum and long-time staff member, details his transition to the principal position.
Carter is a senior student who participates in sports and gives us a peek at what student life is like.
Eric and Carter also discuss how their faith plays a role in their school experience and philosophy.
---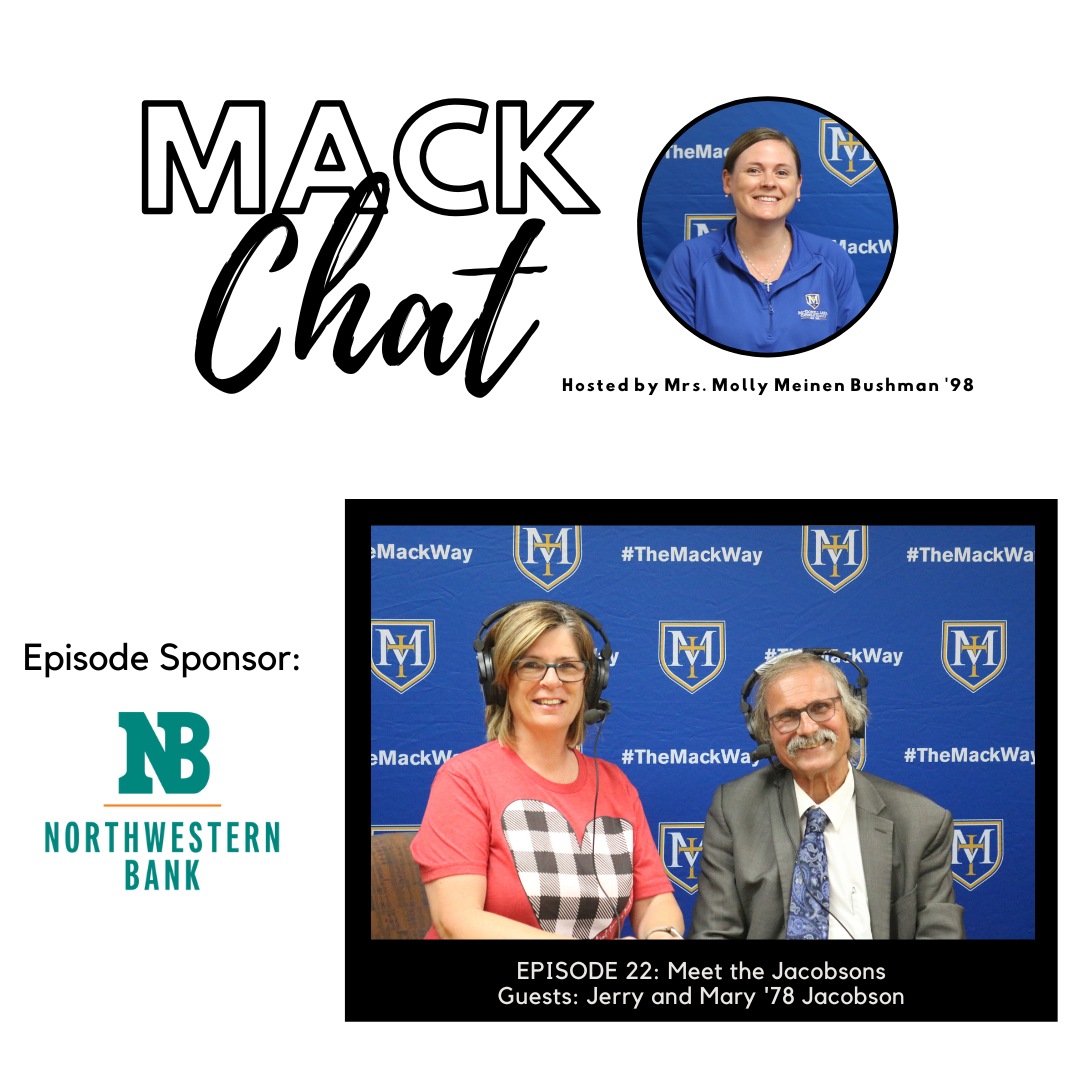 Episode 22: Meet the Jacobsons
Community leaders and supporters of the McDonell Area Catholic School system, Mary and Jerry, are the guests on this episode. We learn their background, but more importantly, why and how they support McDonell.
They give their advice to those interested in giving back.
---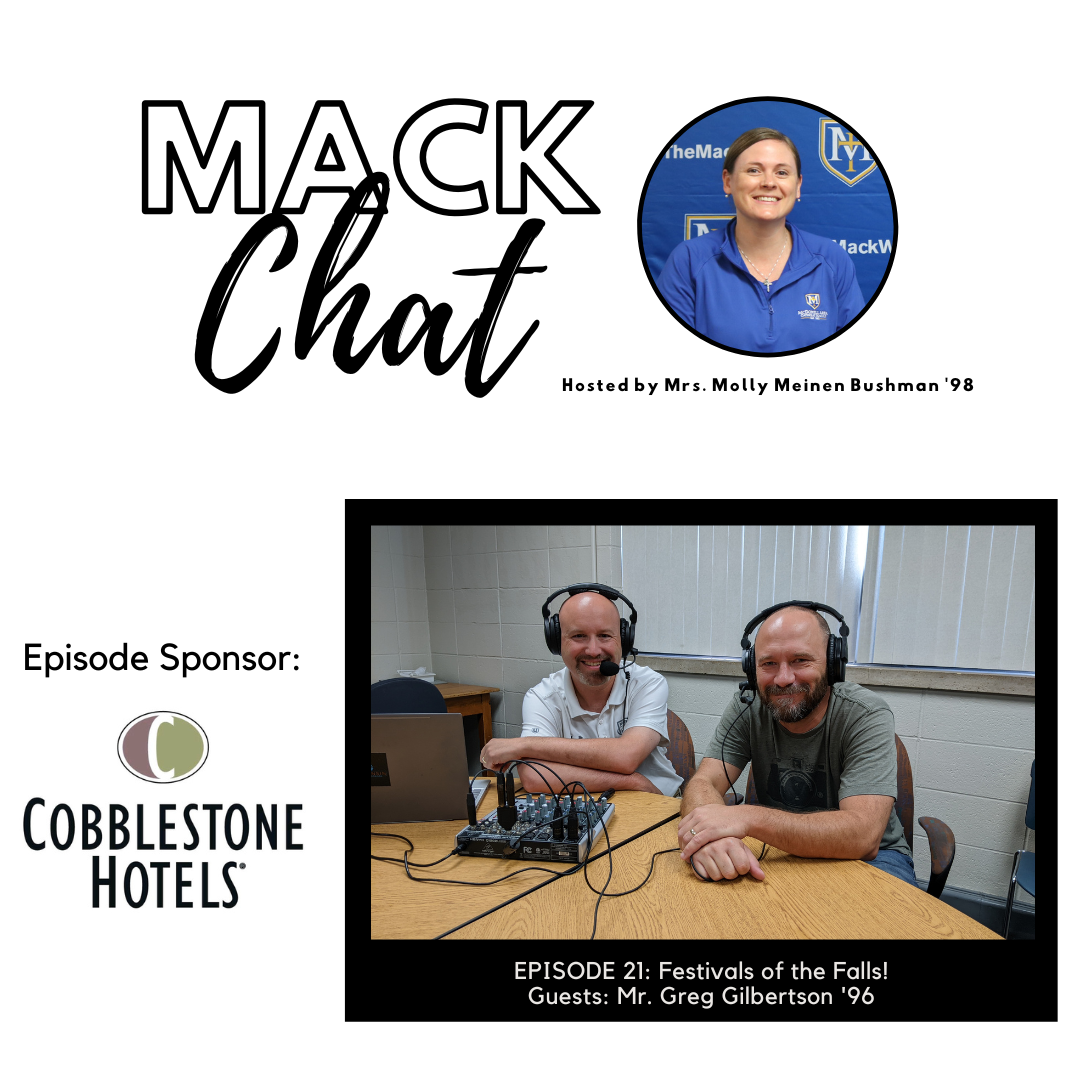 Episode 21: Festivals of the Falls!
MACS is excited to share our first Mack Chat episode of the 2022-23 school year!
Molly introduces us to Greg who is here talking about Festival of the Falls, and also his expectations as a new high school theology teacher. Greg is a Mack alum from 1996.
Festivals of the Falls is coming up September 9-11 and Greg tells us about the great community event. Opening night involves a tailgate before the Mack's first football game, including a pig roast, polka band, with more fun events planned for the rest of the weekend. Such as a dinner theatre at Notre Dame and an all-day chicken bbq at Holy Ghost parish.
He also dives into his new classroom role, what drew him to the position and what his goals with the students are.
---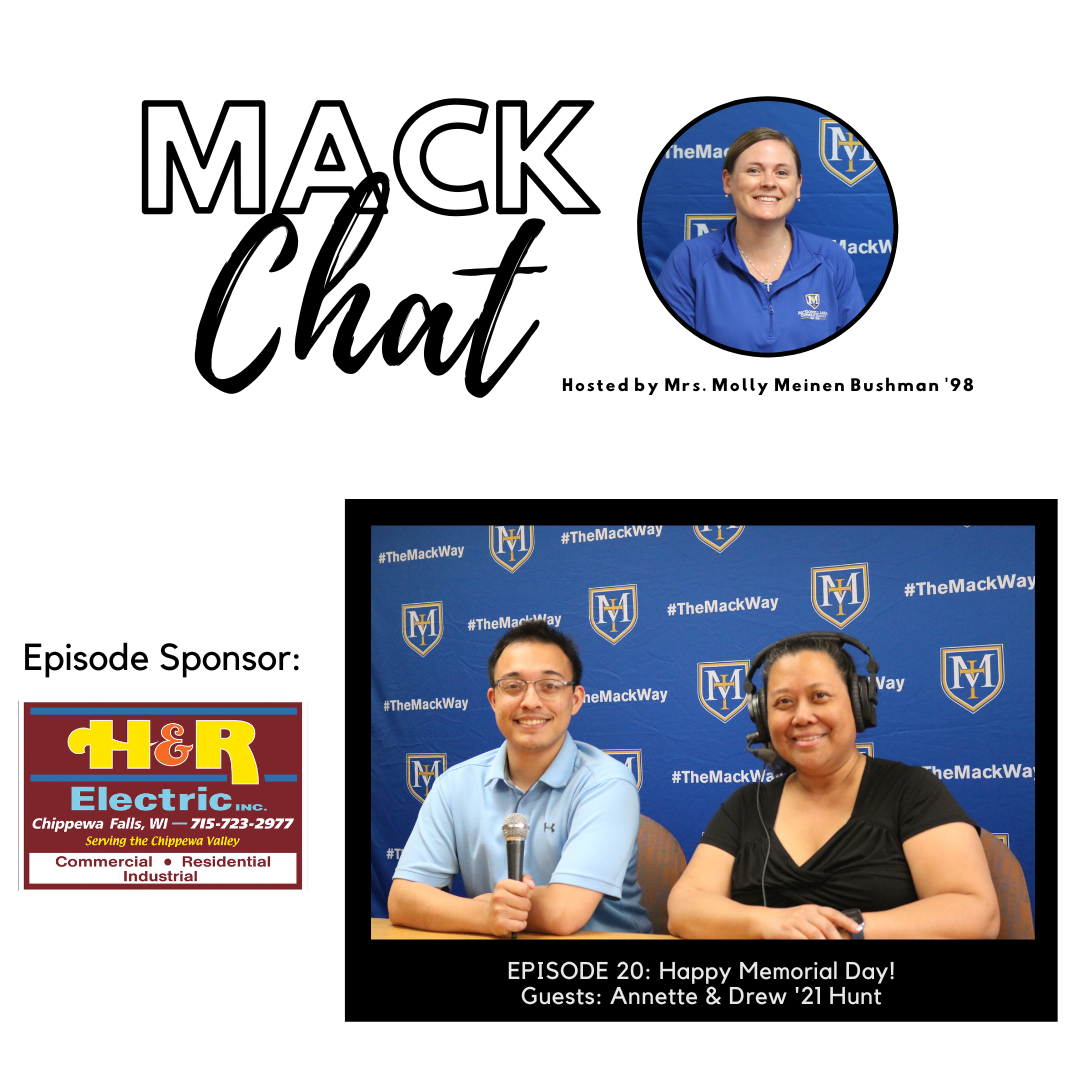 Episode 20: Happy Memorial Day!
With Memorial Day upon us, Molly brings on a family that is not only associated with McDonell but the military. We learn about military service from Drew's dad/Annette's husband.
It's a fun discussion of what it means to be a part of a military family. The benefits, the sacrifices and more that every member of the family goes through.
And ways everyone can support military families.
Oh, and catch the story of how Annette's birth name was supposed to honor astronaut John Glenn!
---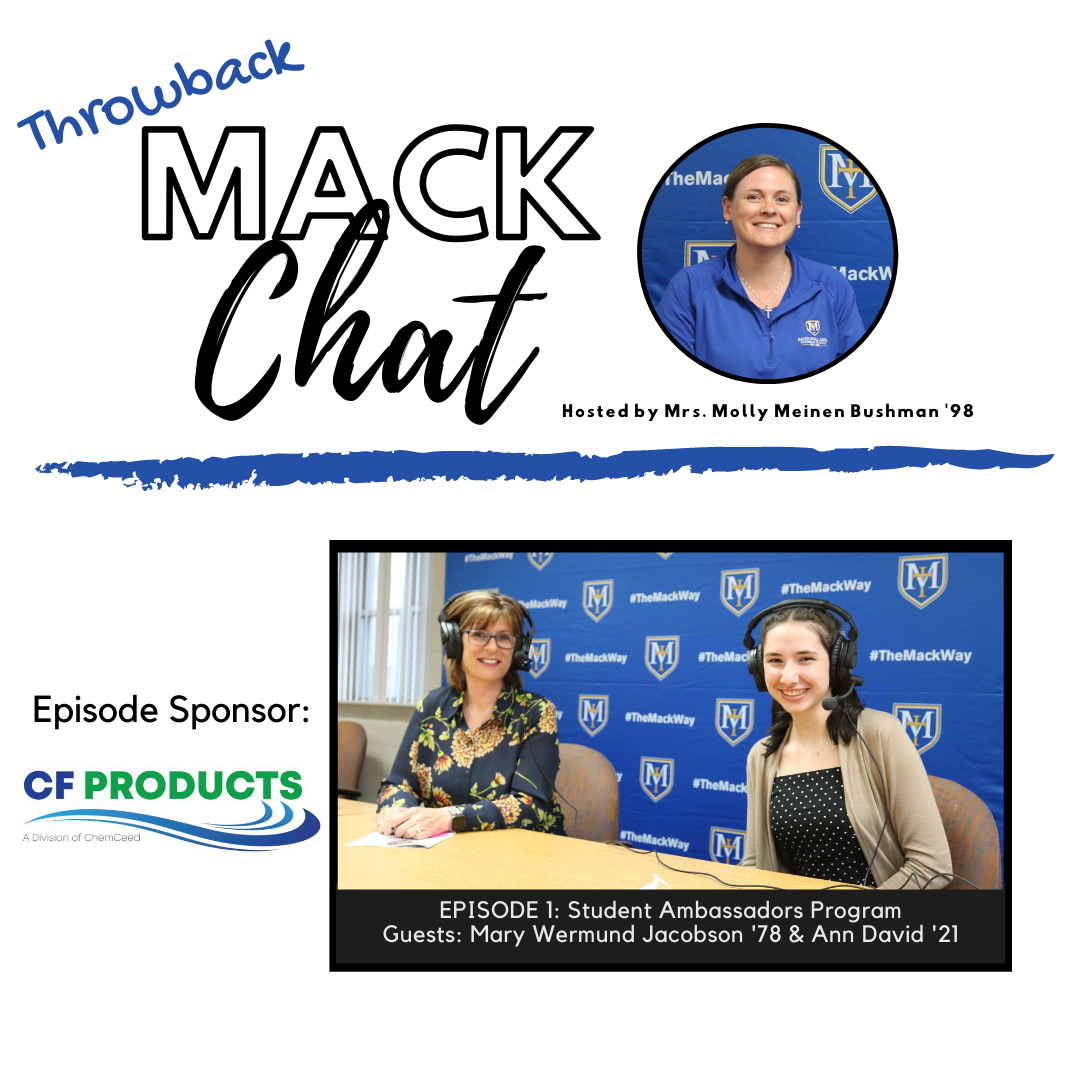 Throwback to Episode 1
It's a throwback episode! In honor of longtime educator Mary Jacobson's retirement at the end of the 2021-2022 academic calendar, we go back to March 2021 and episode #1 of Mack Chat! In this episode, Molly talks with Ann David and Mary about the student ambassador program she has developed and guided for many years.
---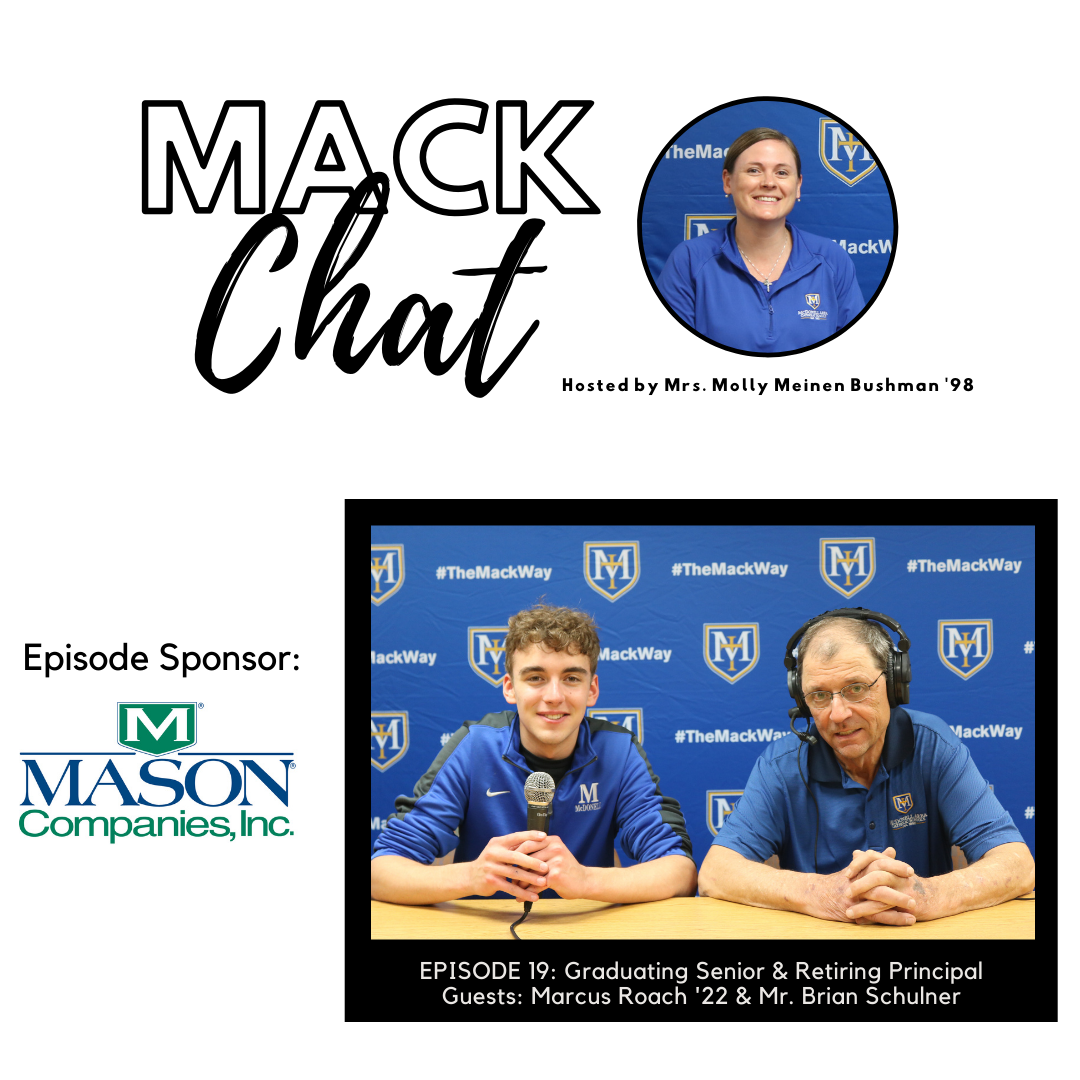 Episode 19: Graduating Senior & Retiring Principal
Molly talks with soon to be graduating senior Marcus about his time in the McDonell school system. We hear about his participation in music and also learn about his involvement with the Altoona fire department.
The conversation then shifts to Brian, who is about to retire from his position as principal. His memories and insight from a 40-year career in education. Oh, and we hear about his sportscasting background.
---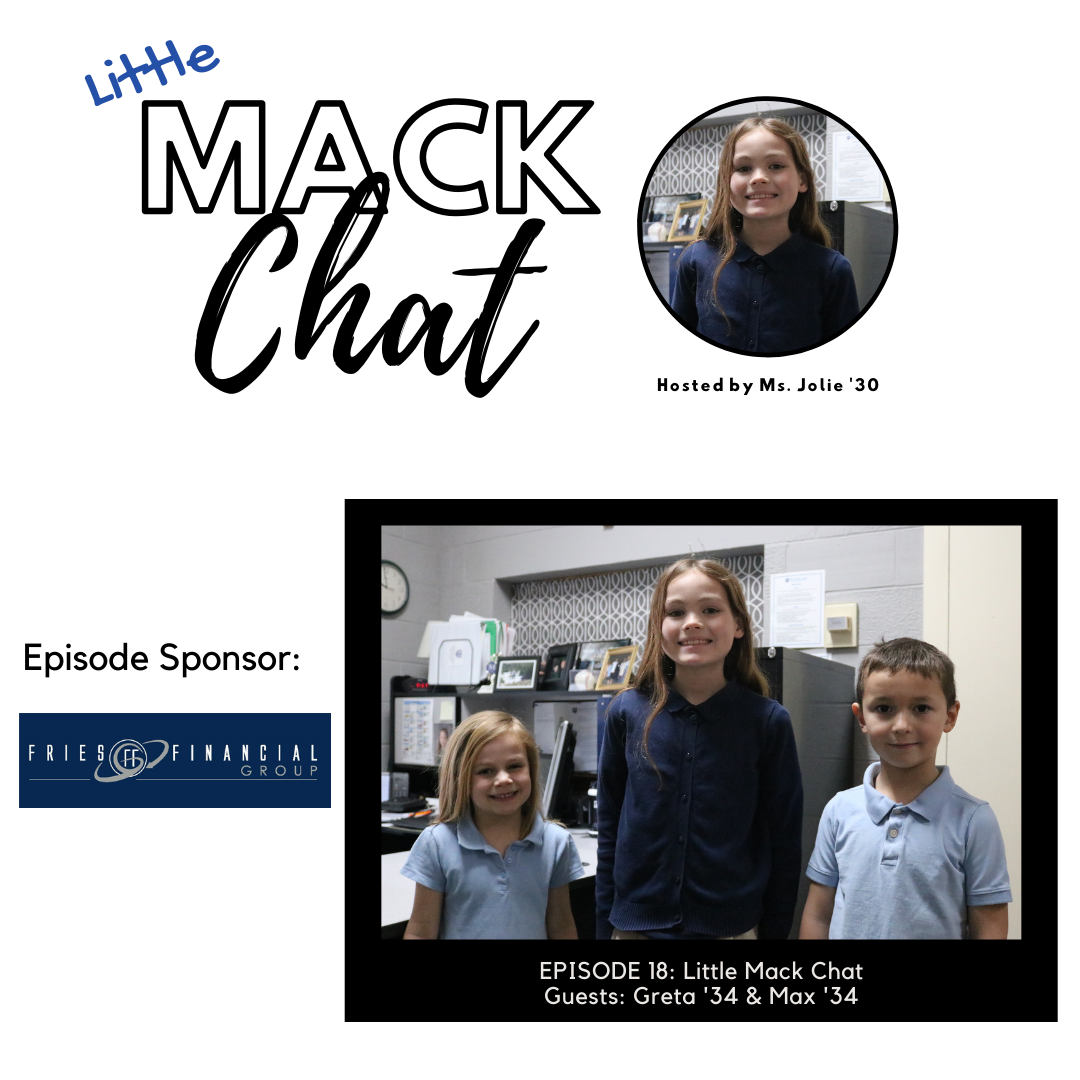 Episode 18: Little Mack Chat
A group "Little Macks" takes over this edition of the podcast. Jolie '30, Greta '34 and Max '34 tackle all the hard hitting topics. Including favorite colors, animals and more. What they like about their teachers and things they've learned about their faith.
---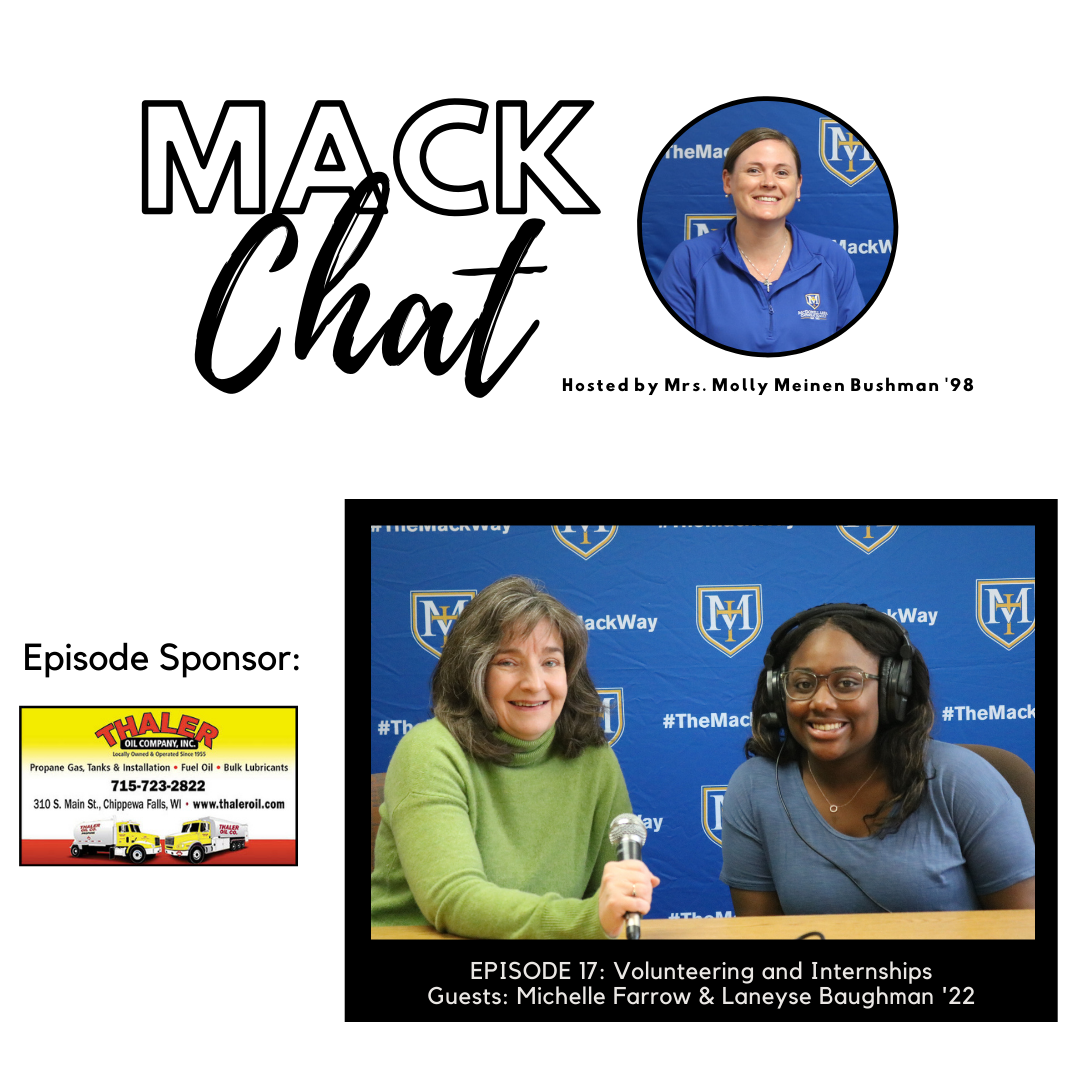 Episode 17: Volunteering and Internships
- Michelle talks about the "schools to skills" program that shows students opportunities.
- Laneyse discusses how this has benefited her as a student and provided direction to what career she'd likes to pursue.
- Teaching students about not just careers, but how to succeed.
- The importance of trying various things through volunteering and internships to learn what you like (and what you don't like).
- The Job Fair.
- Preparing students to be a part of the community.
Volunteer Chippewa Falls Facebook Page: Volunteer Chippewa Falls | Facebook
​
---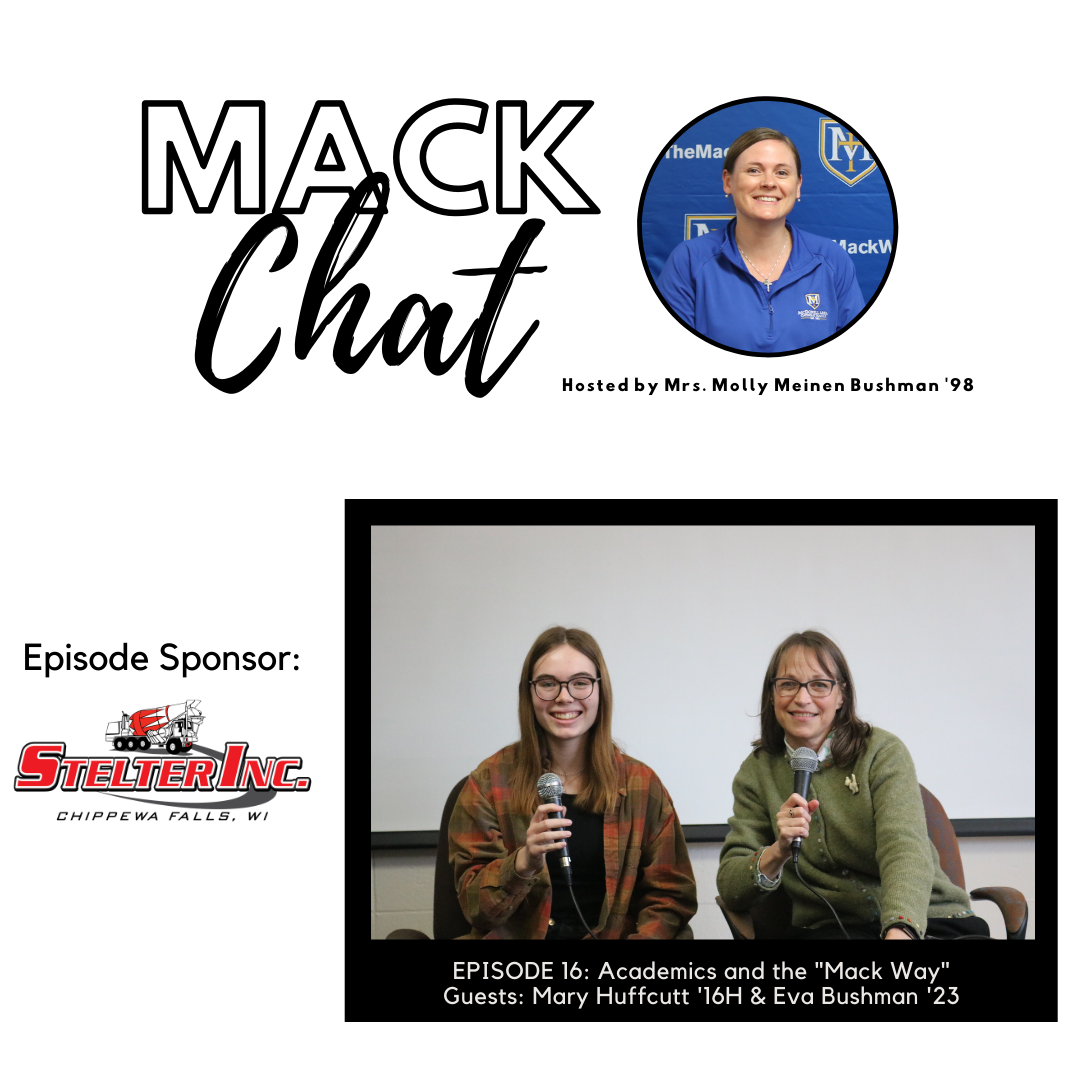 Episode 16: Academics and the "Mack Way"
Talking the basis for why McDonell exists and that is academics. We meet a student and what their goals are along with one of the people in charge of the educational principles at the school.
It's not just a "public school education but with religion"
What are the nuts, bolts and pillars of education here? This includes the fundamental principle of reading, and not just reading, but truly understanding literature. A dedication to the science of reading.
Why should parents send their children to McDonell for their education? What separates it from elsewhere?
From a student's perspective, what is it that they enjoy at the school? The education and the faith element.
What is the "Mack Way"?
---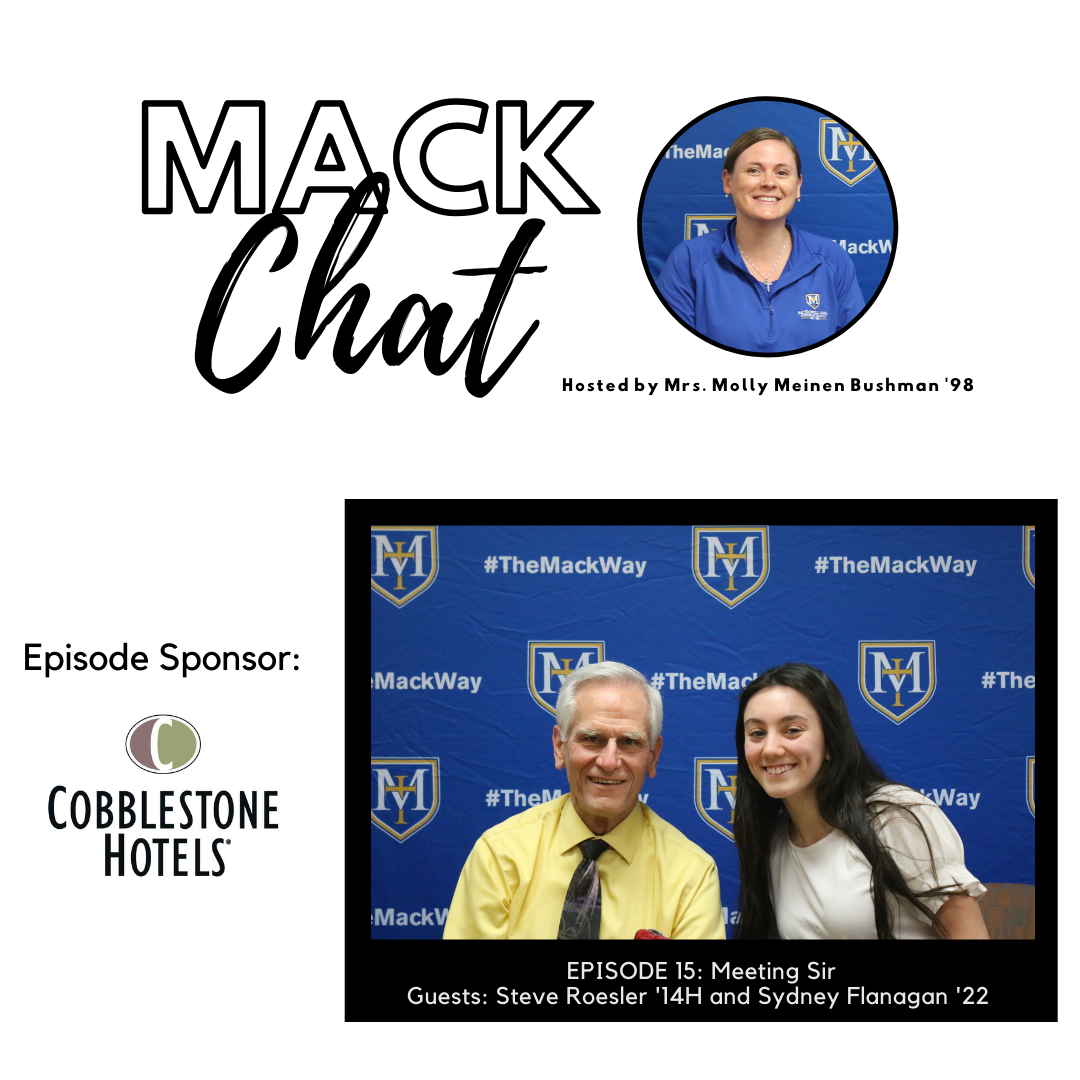 Episode 15: Meeting Sir
Molly and Sidney talk with Steve about his career in education and share stories as he nears retirement. McDonell has been his only teaching job since starting in 1975 and over time, he has taught Western Civilization, Government, Sociology, American History and many others. Mostly social studies, but also P.E. and religion classes.
We get the story behind his nickname " Sir". It involves a foreign exchange student in 1986.
How a passion another had for "hang gliding", led to him coaching track.
Memories of Debbie Roesler
Sidney and Molly take us inside what a "Sir" class is like.
---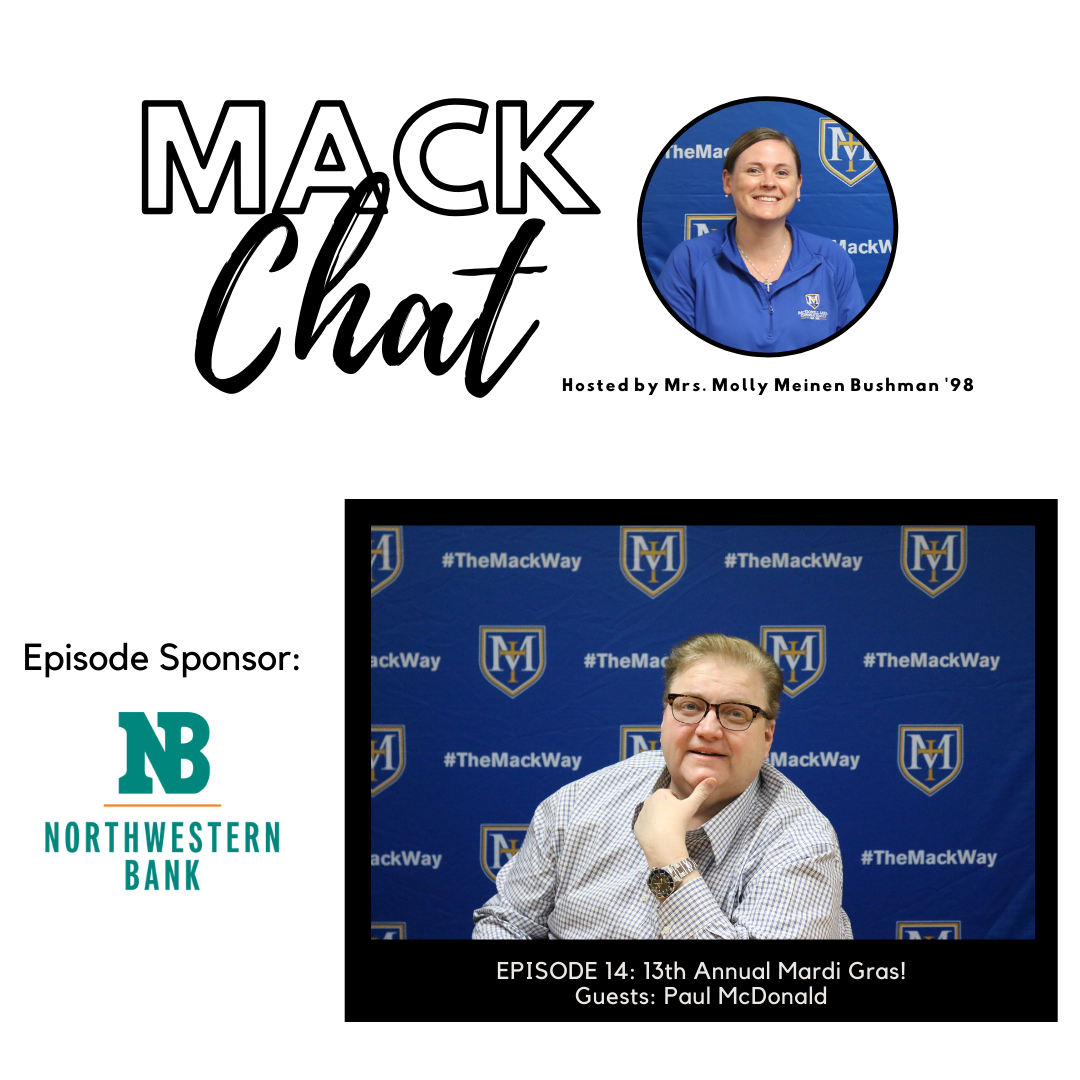 Episode 14: 13th Annual Mid-Winter Mardi Gras!
Paul McDonald comes on the program to talk about the Mardi Gras fundraiser. He is a father of current and past Macks and also teaches a class on entrepreneurship.
Mardi Gras will be February 12th, marking a return after a one-year hiatus.
Even if you can't attend, you can still purchase raffle tickets. Prizes include cash and items from various local businesses.
Chicken, potatoes, pork loin, Cajun items, rum cakes, freshly fried beignets and much more to fill you up.
A big band will provide the music!
Its the biggest FUNdraiser of the year.
---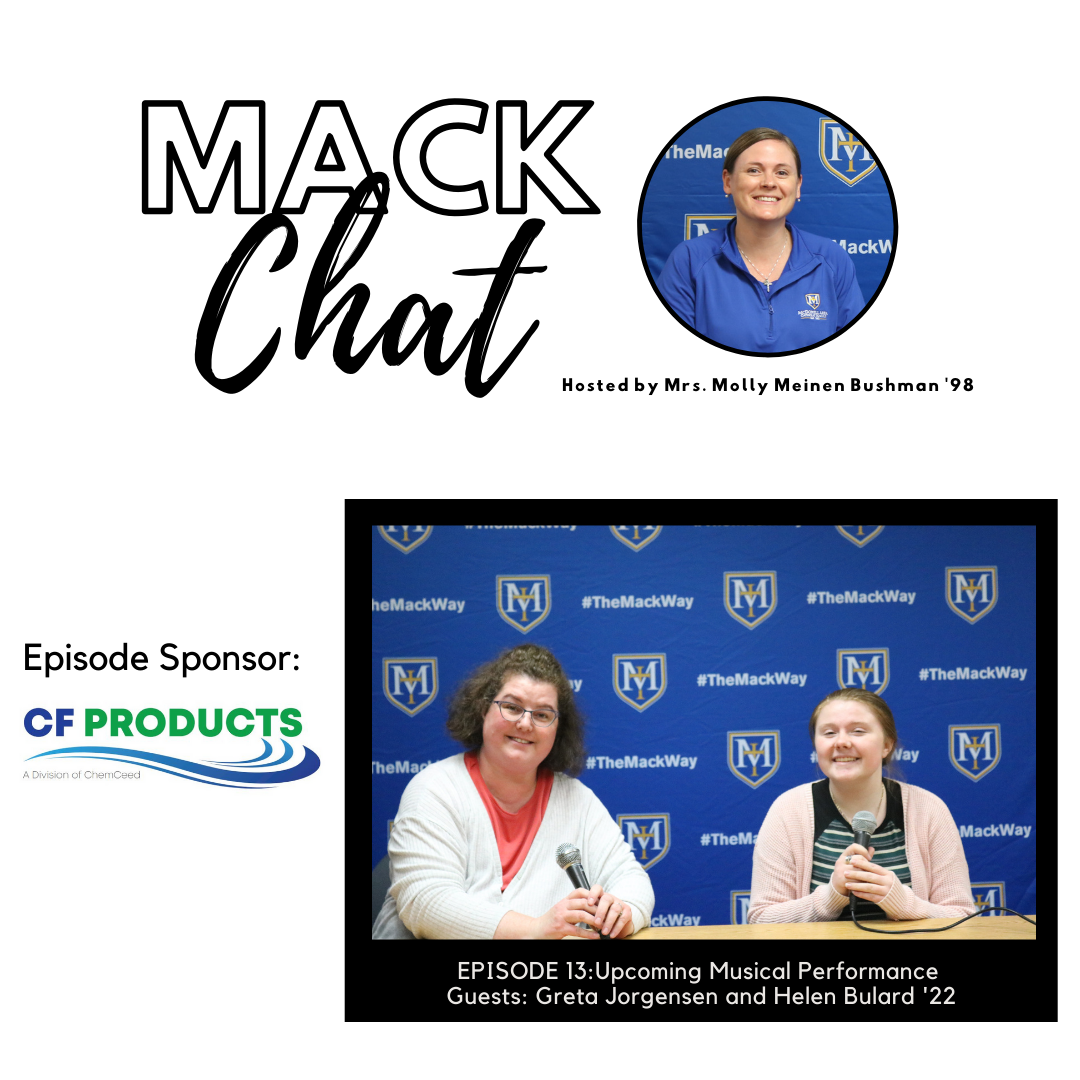 Episode 13: Upcoming Musical Performance
Gretchen Jorgenson – Director of the Musical and a Science Teacher
Helen Bullard – Fairy Godmother and Costume Director
They are here to discuss the theatre program at McDonell, which is in only it's second year in a new incarnation. This includes an upcoming performance in February.
Musical Cinderella February 3-6
Purchase Tickets Online Box Office (booktix.com)
This is both a familiar story, but has updated music that is sure to entertain traditionalists and newbies alike.
Kids are encouraged to come dressed as princesses and princes and get their photos taken with the cast.
---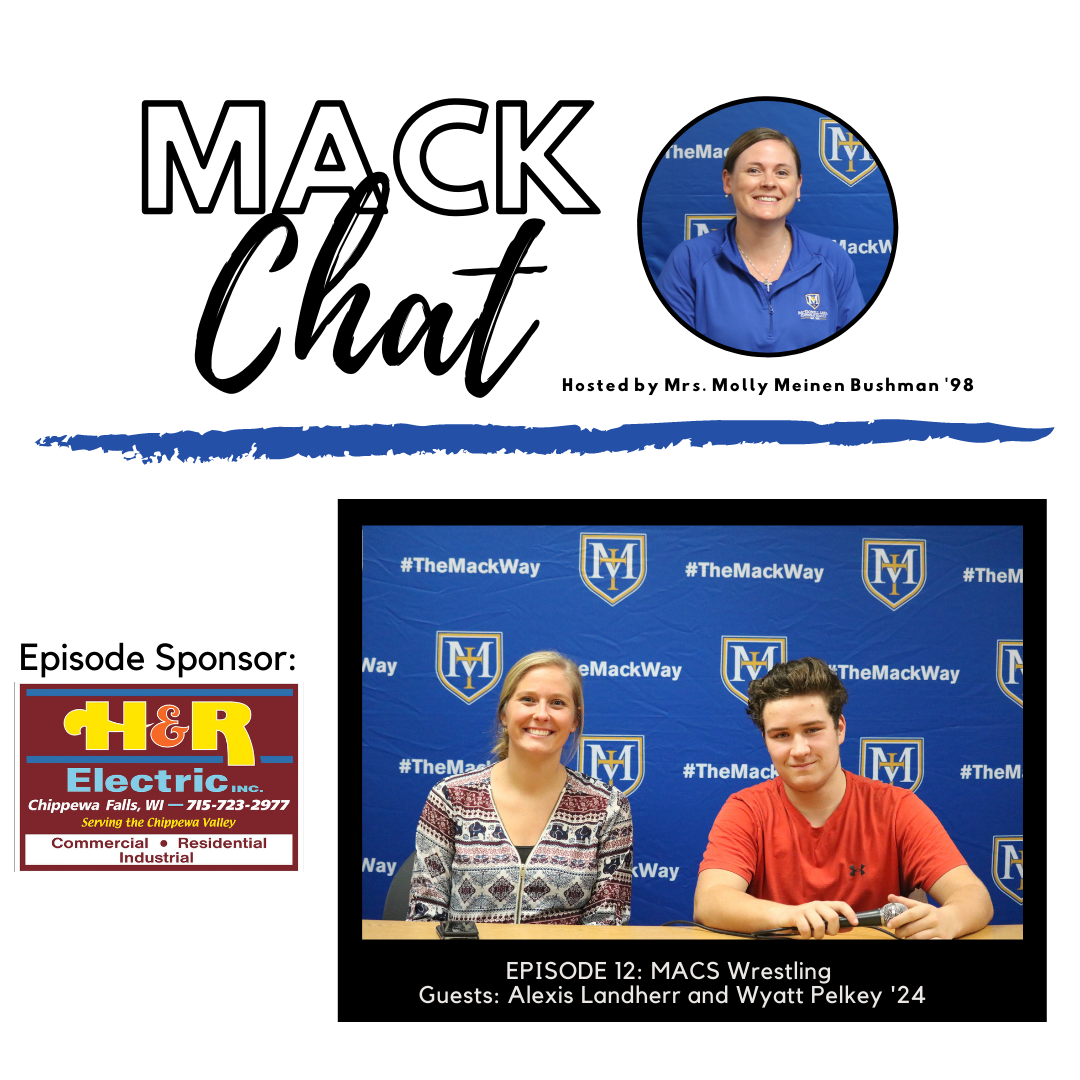 Episode 12: Athletics & New Wrestling Program
Molly brings on Alexis Landherr, the school's new athletics & activities director, along with sophomore athlete Wyatt Pelkey. They are discussing the school's new wrestling team and the school's athletic program in general.
---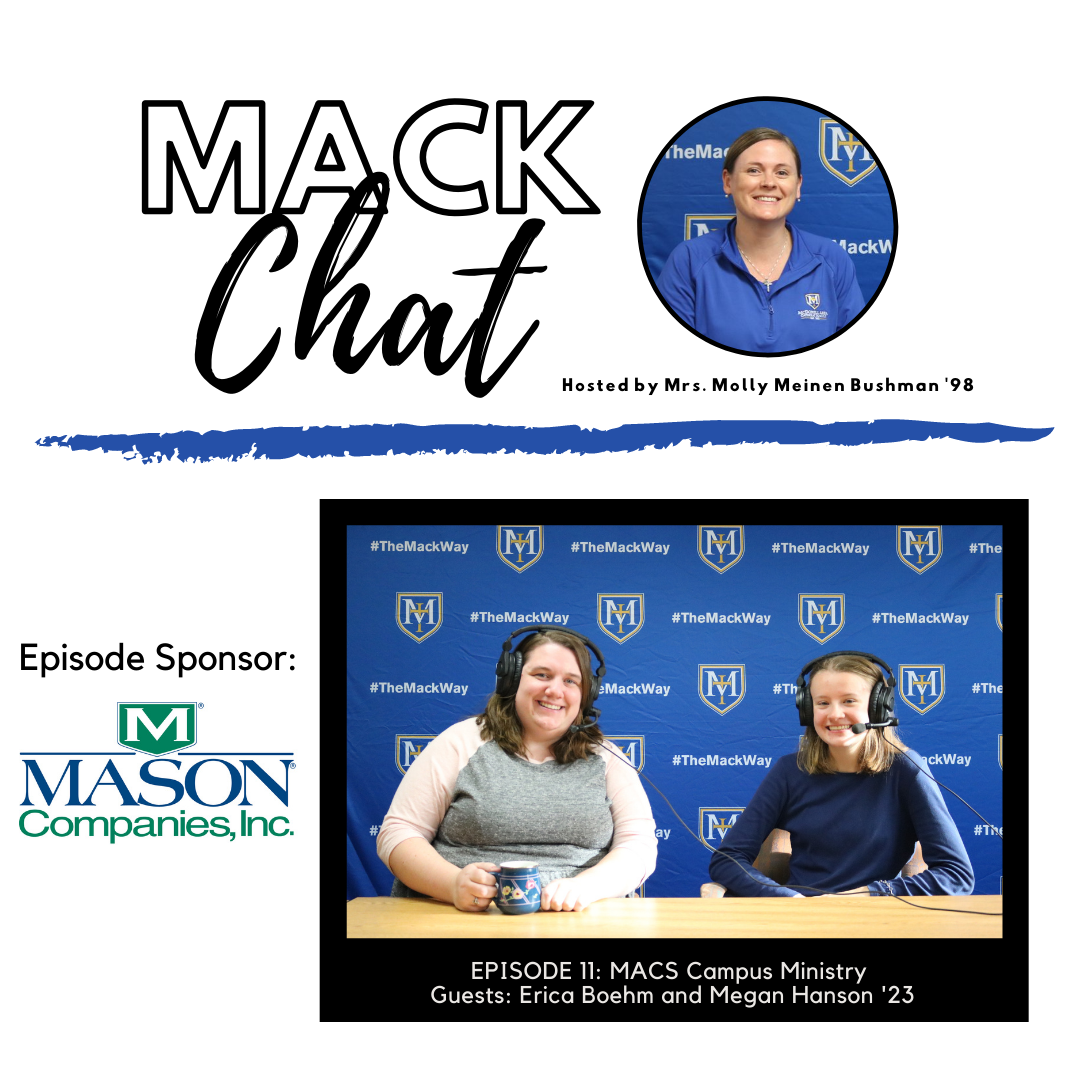 EPISODE 11: Campus Ministry
Molly sits down with two members of McDonell's campus ministry program to get the low down from both a supervisor and student perspective. She is joined by Erica Boehm, the campus ministry coordinator for grades 6-12 and by student Megan Hanson.
They talk campus ministry at McDonell and the programs and resources available for students in the system.
The importance of "belonging", building friendships and providing a place to share their faith and religion as disciples of Jesus.
Major events, including an annual pilgrimage to DC. Megan talks about her personal experiences. The transformative events that take place. Including a funny story of watching nuns playing basketball.
Celebrations during the Advent Season
Balancing the challenges of the secular world
---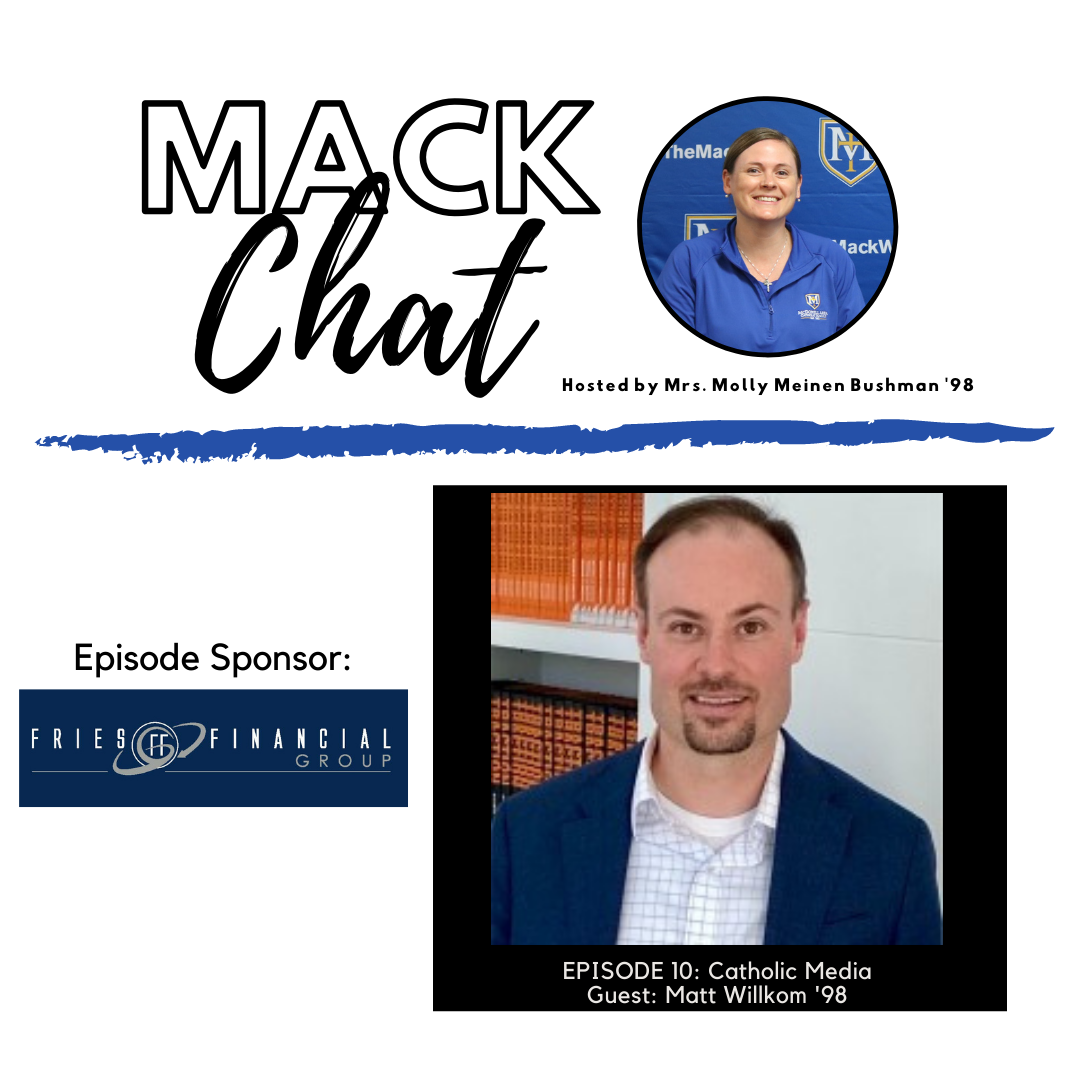 EPISODE 10: Catching up with an Alumn
Matt Willkom a 1998 McDonell Alum and Executive Director Iowa Catholic Radio in Central Iowa is the guest. Matt and Molly reminisce about their time as classmates and about Matt's path to becoming the executive director of Iowa Catholic Radio.
- How his time at McDonell shaped his career and his faith
- The concept of "you can't give what you don't have" when it comes to his relationship with God
- The possibility of his radio group expanding into the Chippewa Valley
- His Father, who is a retired dentist a Deacon and ordained minister.
- Lessons from when we had to be separated during the pandemic. How the perspective gave us on what to focus on.
- Words of advice to his younger self when he was a student at McDonell.
- Seeing God's work through his time in radio
---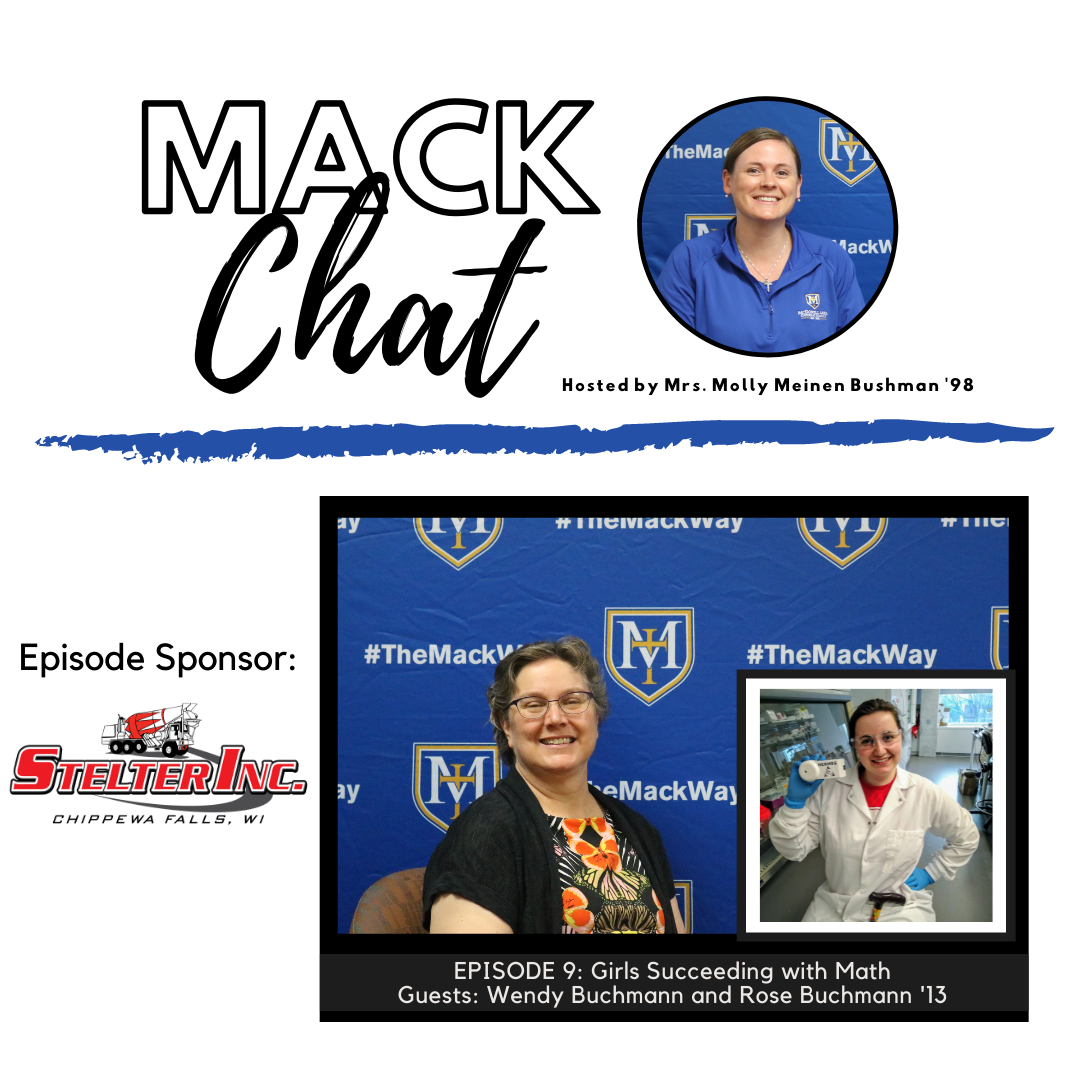 EPISODE 9: Girls Succeeding with Math
Focusing on the girls and women in the math/science fields with a mother/daughter McDonell combo. Wendy is a math teacher at the school and Rose is one of her six children who are either alums or still currently enrolled at the school.
---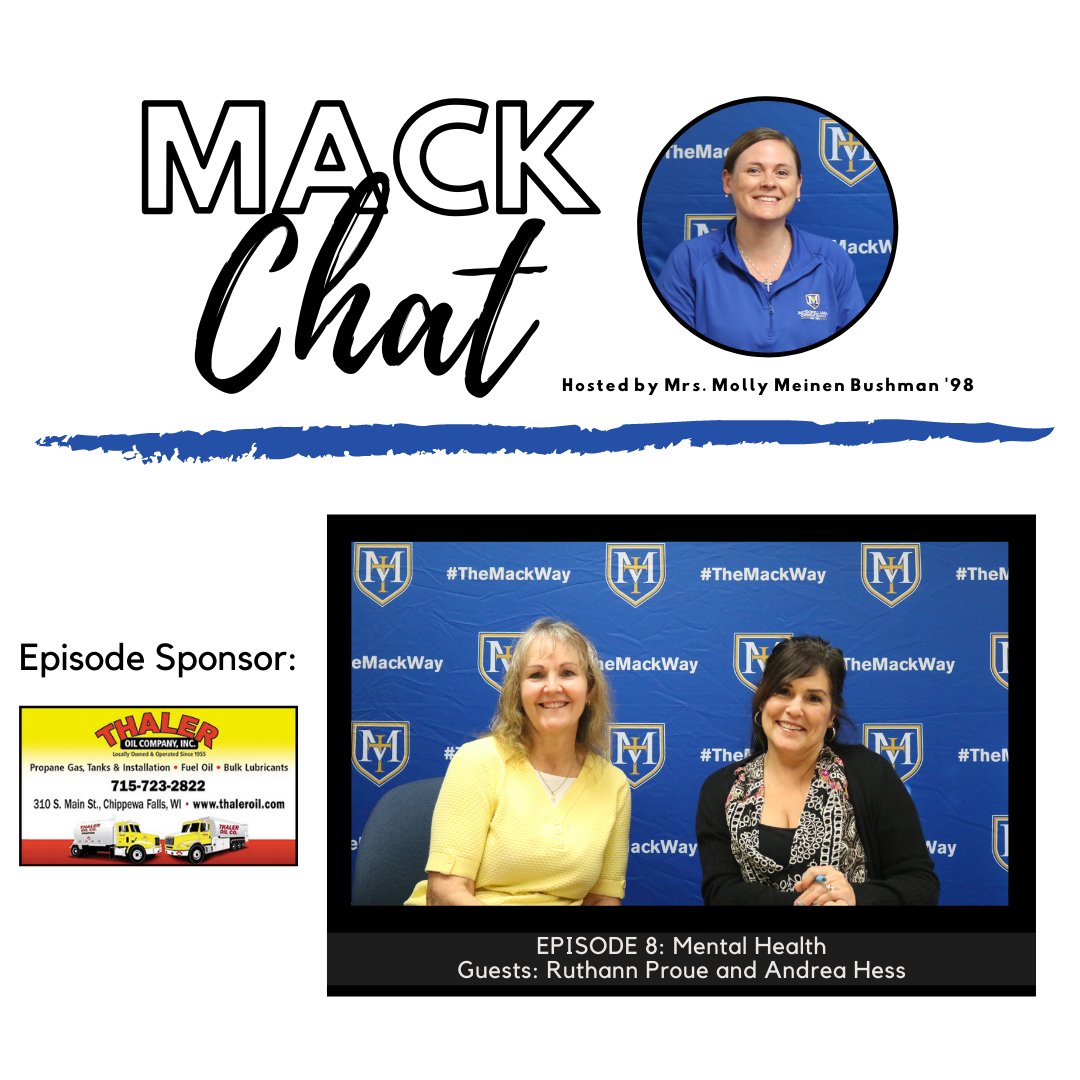 EPISODE 8: Mental Health
Talking Mental Health with a pair of professionals tied in with the McDonell School System. Andrea Hess with Oakleaf and Ruthann Proue, a school counselor discuss mental health systems within the McDonell Schools
- What is the school district providing? The importance of being proactive with programming
- There are more issues now than before (and no, it's not just because of COVID but instead deeper than that)
- Why communication between kids and their adults is important
- Lastly, shifting gears, Andrea discusses "Domestic Church" and what this program is that she is involved in.
---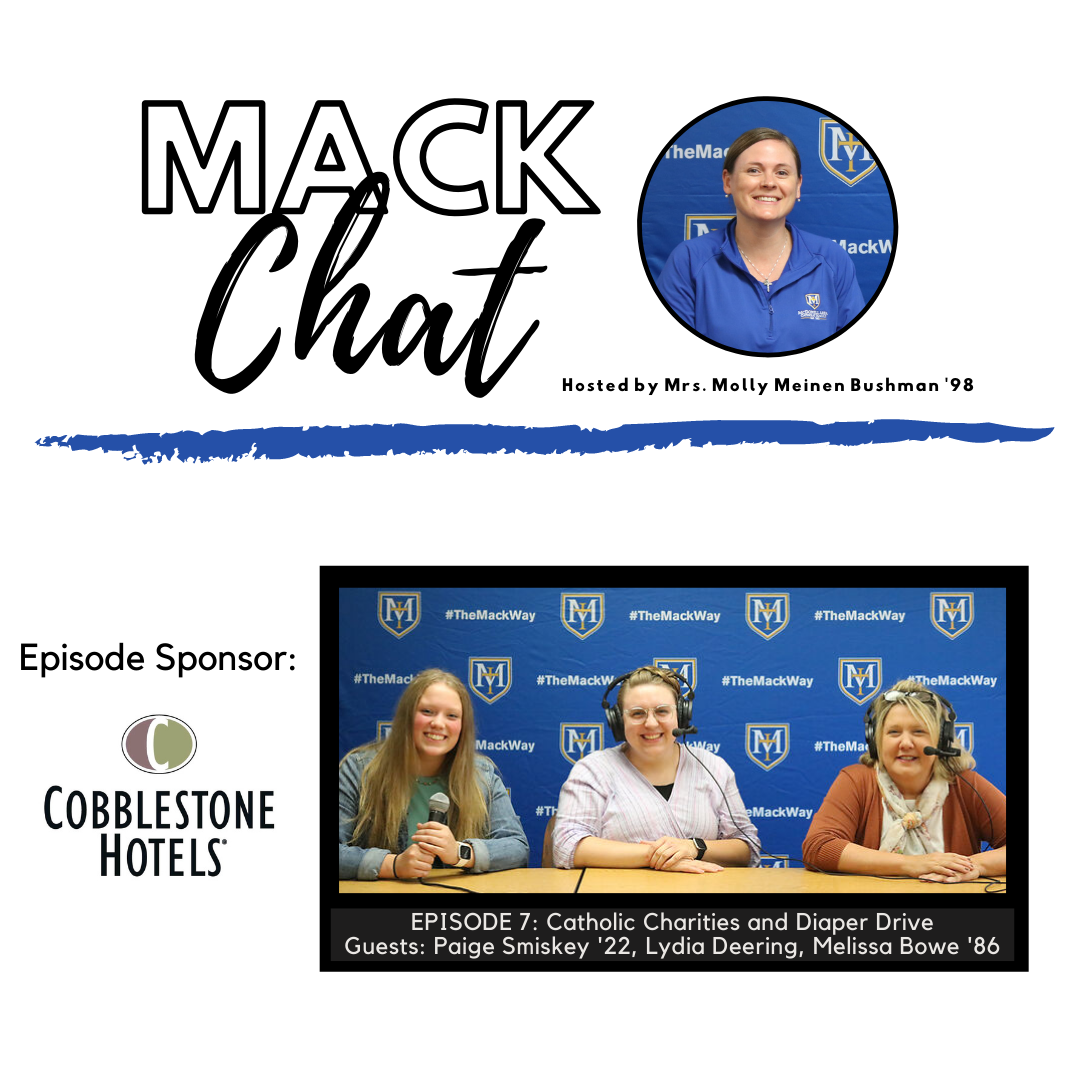 EPISODE 7: Prolife Month
Kicking off October as Pro-life month, MackChat welcomes Melissa Bowe '86 and Lydia Deering to share more about their work in adoption and permanency support services at Catholic Charities, as well as senior Paige Smiskey to talk about her work as a MACS Student Ambassador leader for the annual diaper drive October 22-28. Join us to be inspired by the passion and faith of these ladies as they make a real difference for birth parents and babies!
---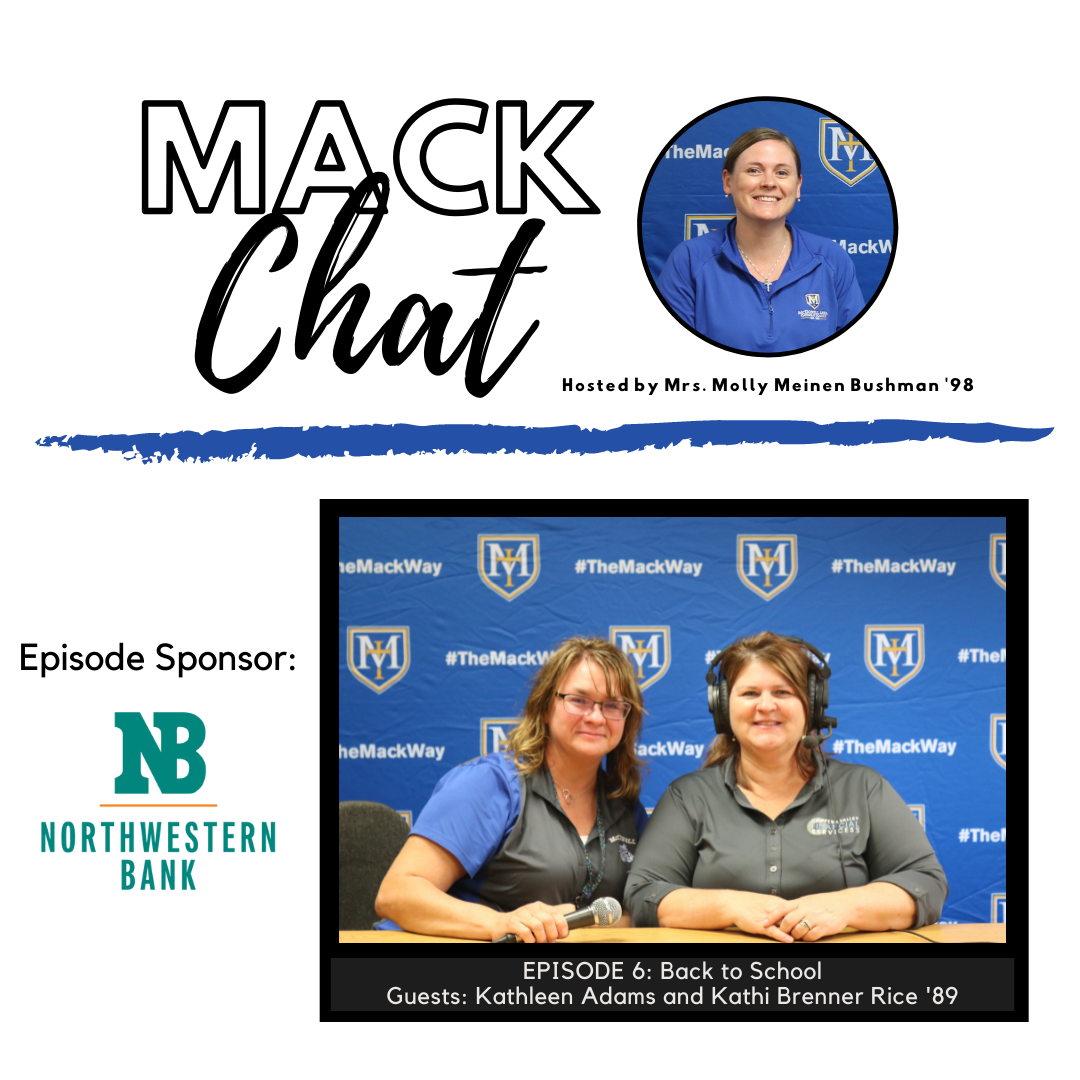 EPISODE 6: Back to School
Guest Kathi Brenner Rice '89 joins us in promoting the Steppin' Across Tilden for a Cause fundraiser coming up September 11, 2021. It's a fun event that takes participants on a five-mile walk across Tilden. All funds raised will benefit the Christian Ruf family.
Then, MACS Admission Coordinator, Kathleen Adams, talks about the return to school. Listen in as she shares insight on the influx of students and seeing new families come in from places such as Alaska and Florida.
---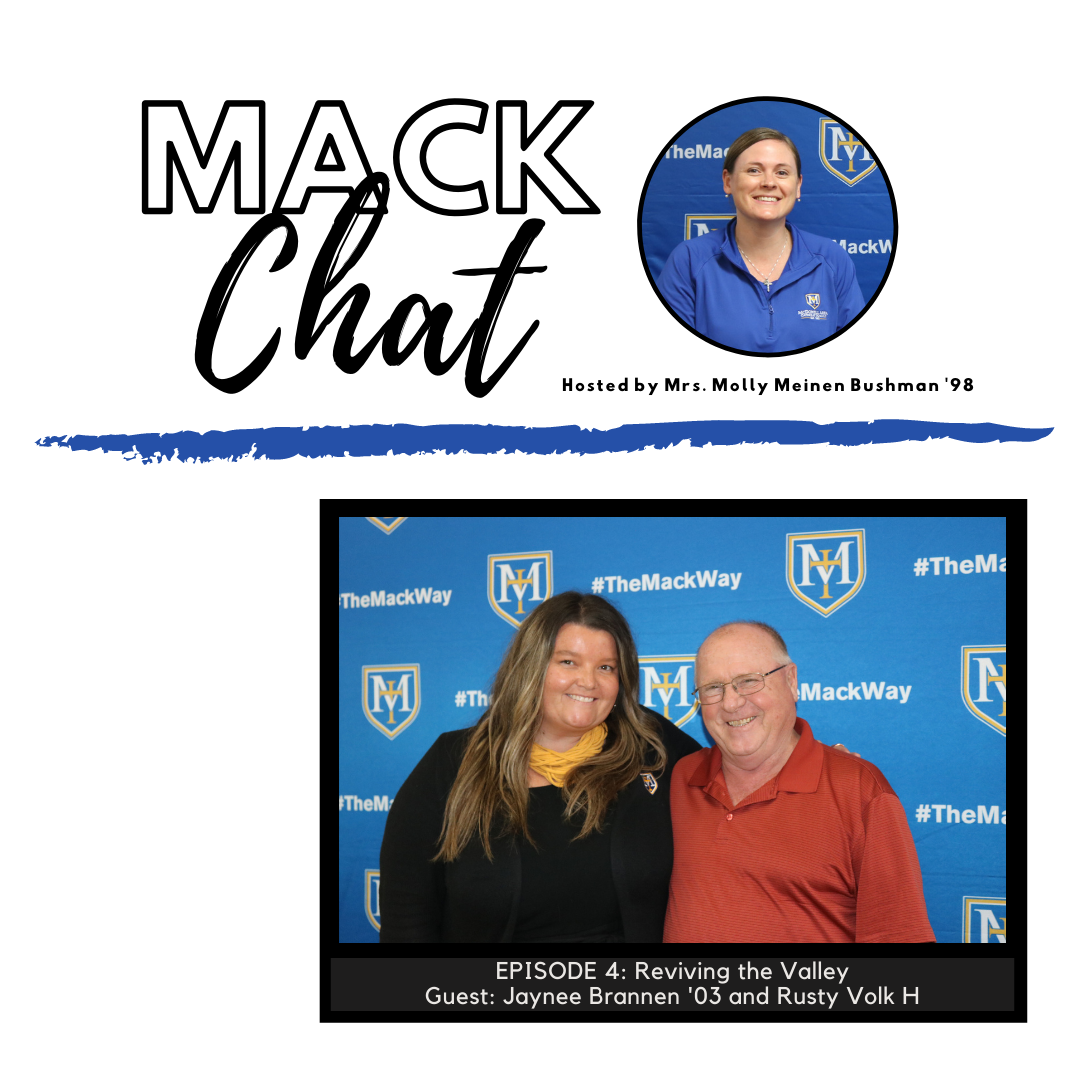 EPISODE 5: State Fair and Fundraising
Listen in as Rusty Volk 'H13, executive director of the Northern Wisconsin State Fairgrounds and Jaynee (Armstrong) Brannen '03, MACS Director of Advancement, talk about their plans to 'Revive the Valley' this summer with MACS Celebrates 140 years on June 12 and the return of the Northern Wisconsin State Fair. The duo also share how their faith has played a role in their work and MACS living out its commitment to community building and inviting people to share in our mission.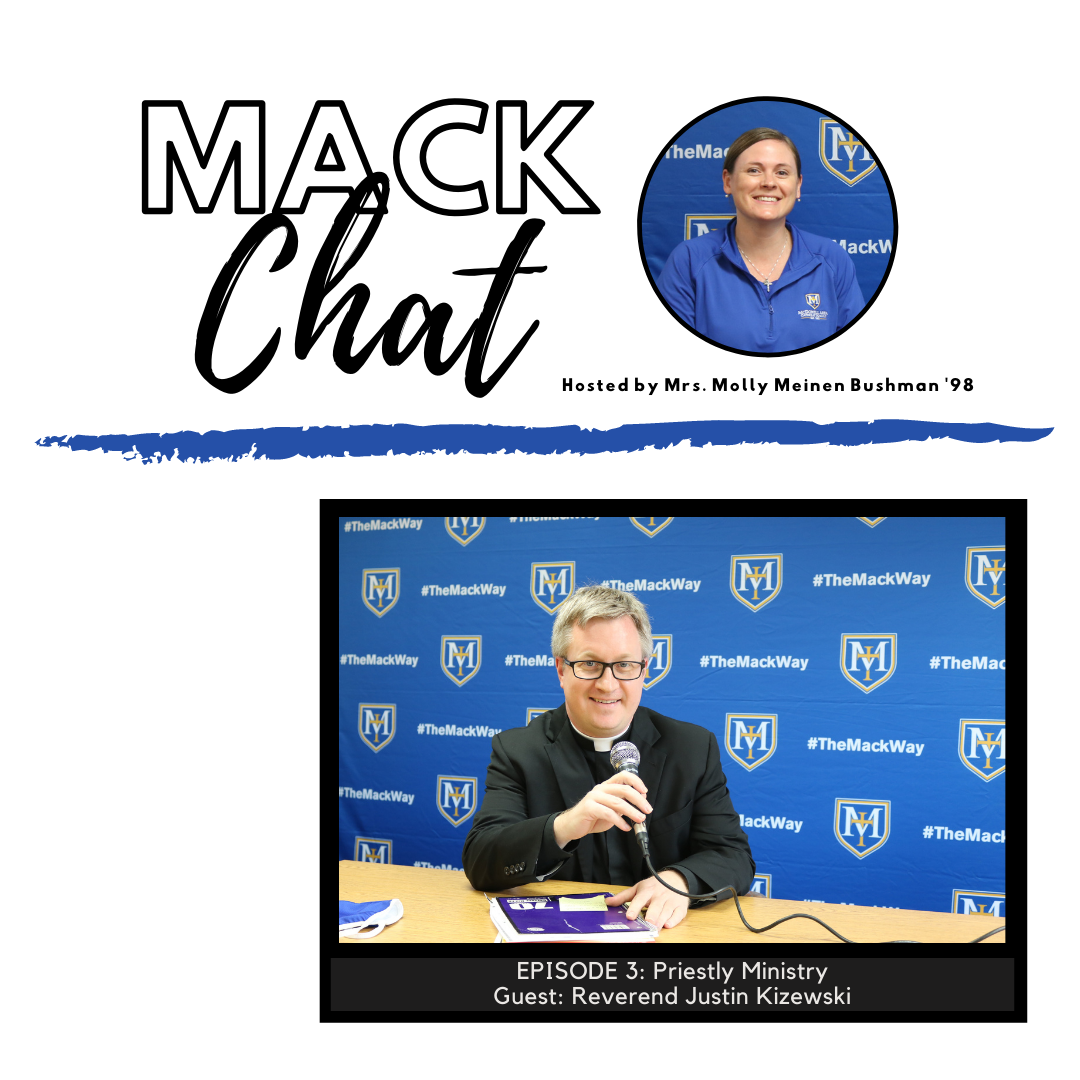 EPISODE 4: Priestly Ministry
May 14, 2021
Molly talks with Fr. Justin Kizewski, a past chaplain and Dean for MACS, about why we need priests in Catholic schools, the truth found in Jesus Christ, and the newly formed ministry Chippewa GRACE, a faith-filled response to the trauma of clergy abuse. As Fr. Kizewski prepares for his next chapter teaching in Milwaukee, he reflects on his years in ministry in Chippewa Falls.
---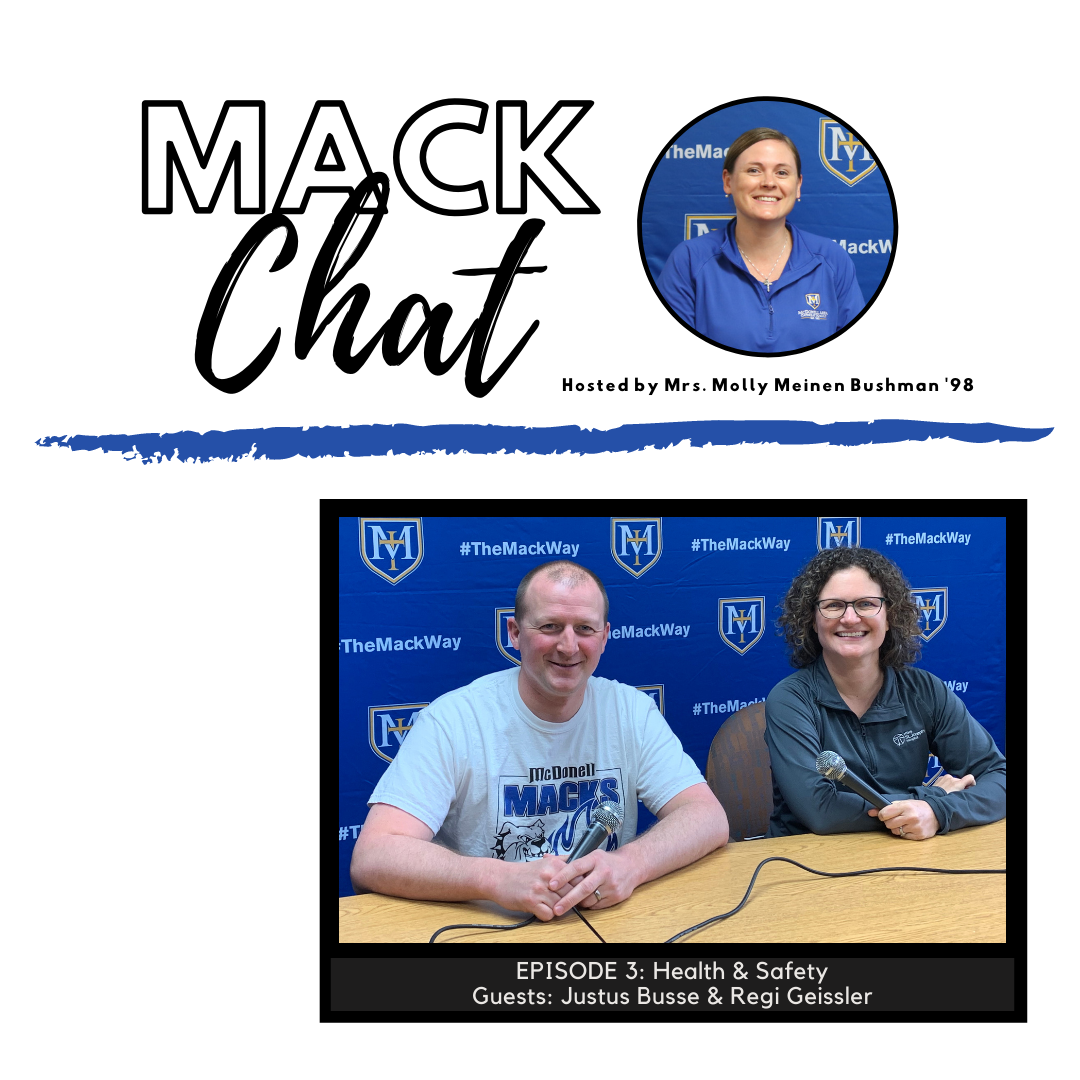 EPISODE 3: Health and Safety

April 13, 2021
Guests Fire and EMS Lieutenant Mr. Justus Busse and Mrs. Regi Geissler, RN, parent volunteers, chat about their passion for safety and protection of the students at MACS. Regi and Justus share their insights on the development of emergency procedures, staff training, building security, the MACS Pandemic Committee and their hope for the future.
---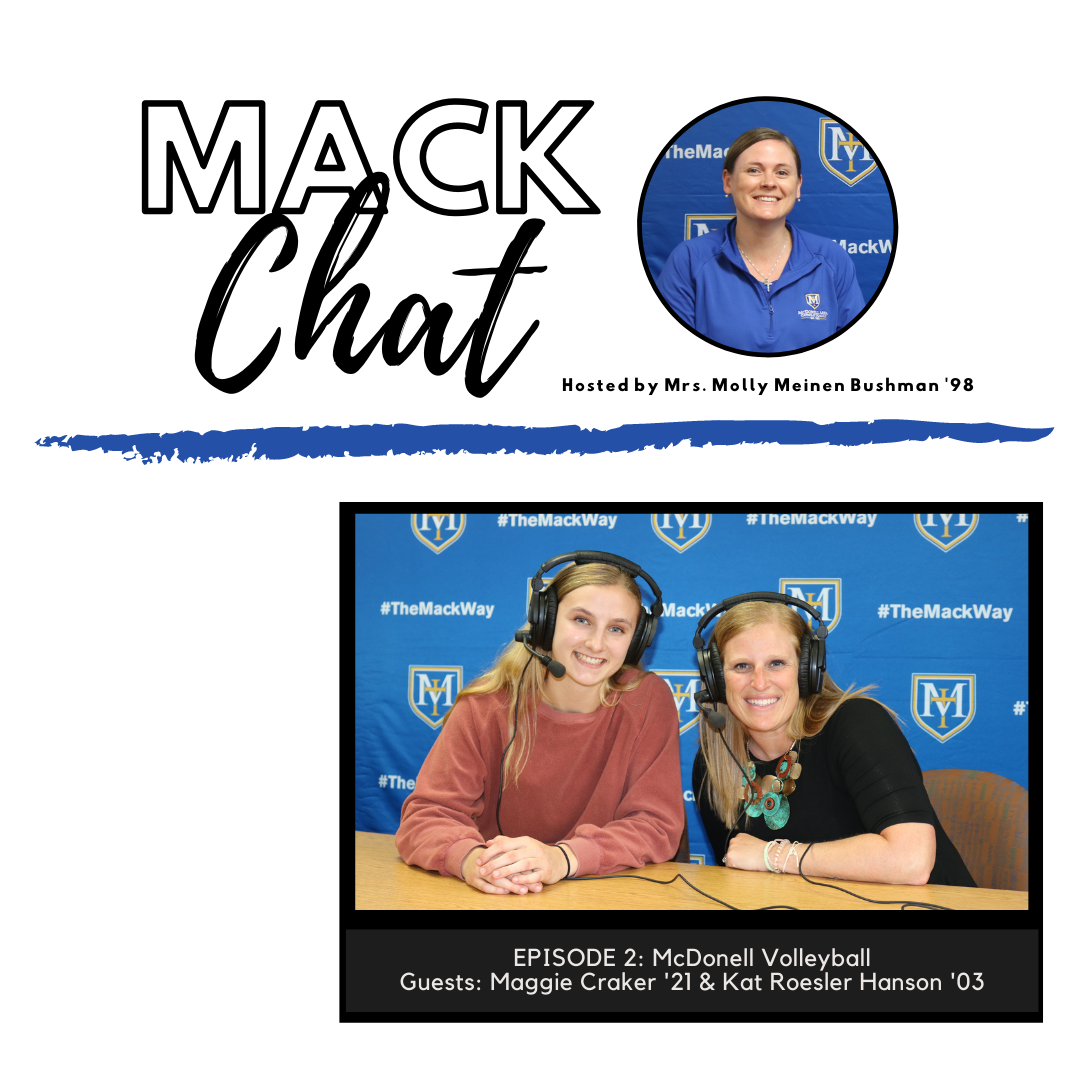 EPISODE 2: McDonell Volleyball
April 9, 2021
Guests Mrs. Kat Roesler Hanson '03, varsity volleyball head coach for the McDonell Central Catholic High School Macks and Ms. Maggie Craker '21, a standout student athlete chat about living the Mack Way through faith, family, tradition. Maggie and Kat share how to be successful on and off the court while trusting in God through the ups and downs.
---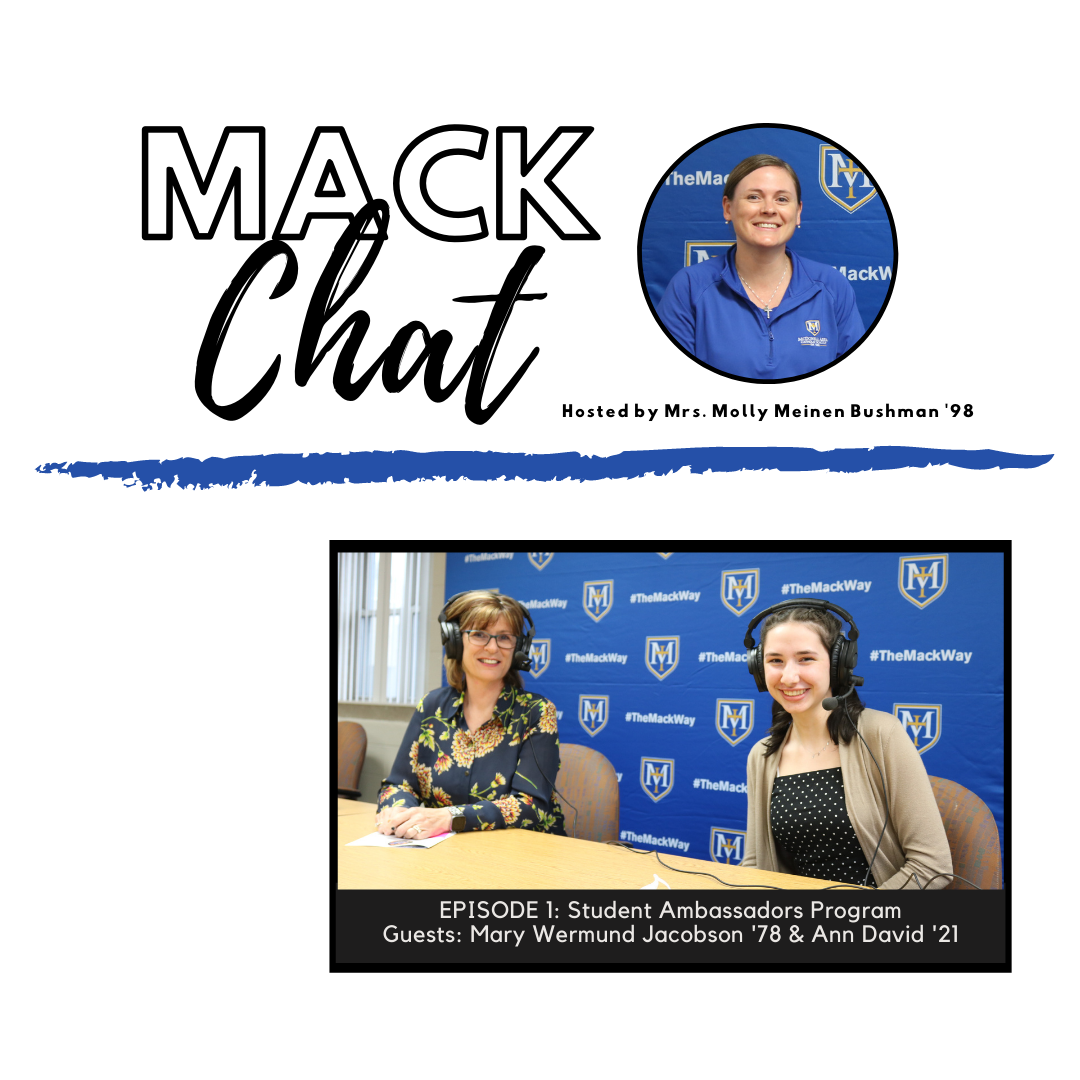 EPISODE 1 Student Ambassadors

March 26, 2021
Guests Mrs. Mary Jacobson, student ambassador program coordinator, and Ms. Ann David '21, a distinguished senior student with a record of servant leadership through the ambassador program. Expect to be inspired and entertained, while getting to know more about this amazing program and two outstanding women that are living The Mack Way!

You can find more information on this link for MACS Student Ambassador Program.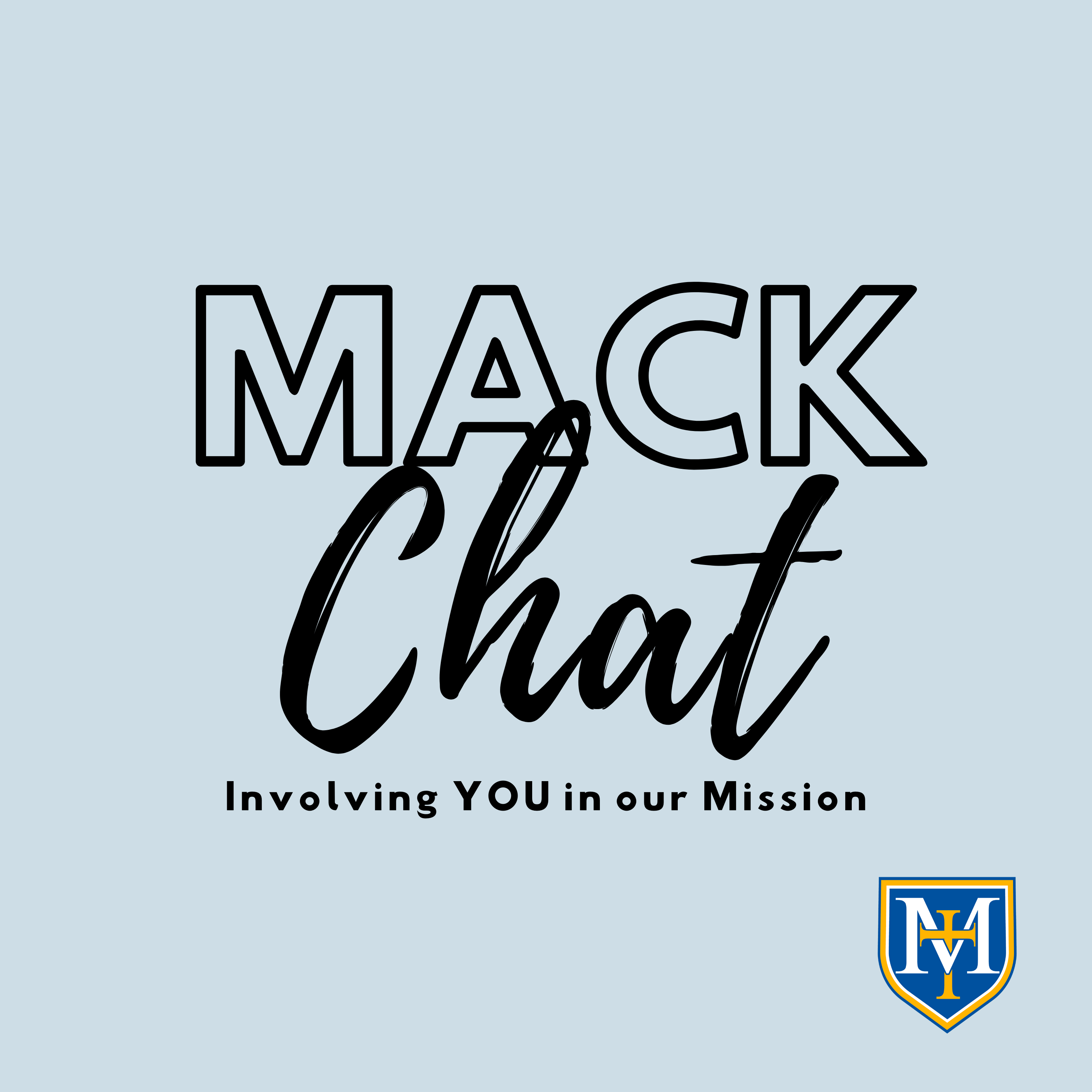 Why Mack Chat?
We chose the name Mack Chat to reflect "The Mack Way" as well as the informal nature of the conversations, i.e. chats.

The Mack Way refers to the culture of our schools, which projects the light of Christ and aligns to our core values: faith, honor, academic excellence, healthy living, community, and servant leadership.
Involving YOU in our Mission