Tuition | Financial Aid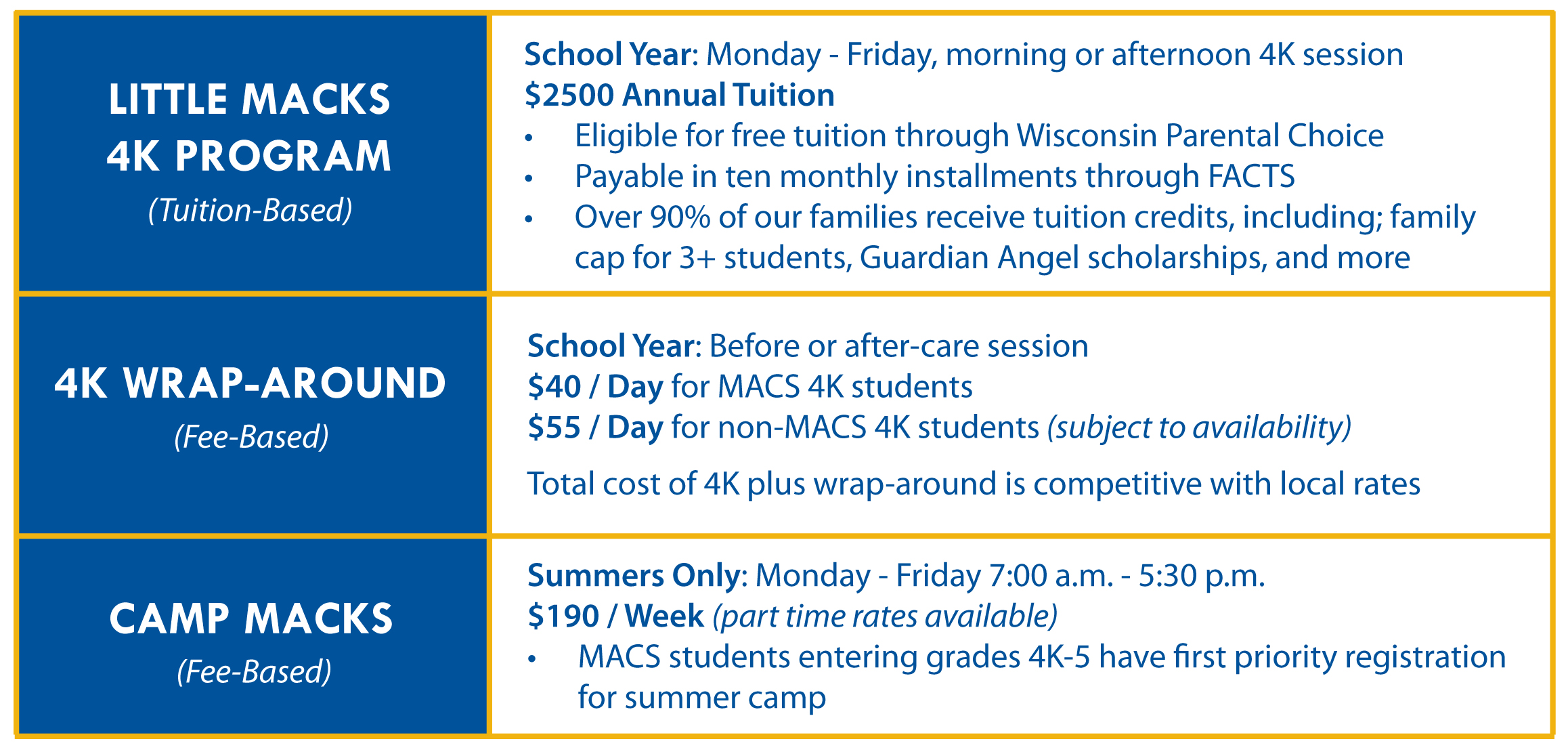 Catholic Parish Membership
Tuition for MACS students is determined by grade level and Catholic parish membership. Families who are active members of our Catholic parishes receive a reduced tuition rate thanks to the financial support of those parishes.

View the list of the eleven supporting parishes.
Third Party Support
All other revenues, including alumni and private donations, fundraising, booster club revenues, business community support, food service, Wisconsin Parental Choice Program, childcare, and Scrip gift card program help to fund our school system. Third-party support accounts for 35% of our current budgeted revenues.
The generosity of many individuals and businesses allows us to maintain lower tuition which would otherwise not be possible. Visit our Support MACS page for more information.
Financial Assistance through the Guardian Angel Fund

Apply to FACTS Grant and Aid

We make every effort for families to be able to afford a Catholic education regardless of Parish affiliation. All families, who have an income-based need, are eligible to apply for financial assistance by completing a confidential application. Each family completes an application directly to the FACTS Grant and Aid Assessment Service. There is a small fee required to complete this application. FACTS evaluates the application and sends the assessment to the MACS Central Office, who then reviews the results and notifies the family by letter if they qualify. The applying family may ask to meet with the MACS President to discuss the results of the FACTS assessment and investigate all funding options. This process is confidential and private.
Through the help of our donors, we have created a Guardian Angel Scholarship that helps to support those families who have applied for financial assistance. We have set aside over $120,000 to be given in scholarships for the upcoming school year. Approximately 23% of our families will receive financial support from this fund.
Shopping with Scrip Business Gift Cards
Families purchase participating retailer's Scrip gift cards from our school system's central office. Half of the percentage of the proceeds is applied toward current or future family tuition, parishes, or our MACS Tuition Assistance Fund. The other half goes to our schools.
View more information on Scrip.
Wisconsin Parental Choice Program (WPCP)
MACS offers the Wisconsin Parental Choice Program. This program allows qualifying students to receive a tuition free education through graduation. The application and document submission period opens February 1, 2023 and closes on Thursday, April 20, 2023 at 4:00 PM. Late applications and required documents will NOT be accepted for any reason due to DPI requirements. To complete an application CLICK HERE

View qualifying income brackets
FACTS Monthly Payment
Families may set up a monthly payment plan for tuition, lunch, and fees. Contact Business Manager Teresa Dachel in our Central Office to set up your account.

Setup FACTS Payment
Wisconsin State Tax Deduction
When filing your state tax forms, individuals may deduct the tuition expenses they paid from January 1 to December 31 up to $4,000 for each dependent child in grades K-8 and up to $10,000 for each dependent child in grades 9-12.
The Wisconsin government site defines what is tuition and examples of what is not tuition. You will need to submit this form with your state taxes.

To fill out the form you will need:
Your record of tuition paid. If you have an account set up in FACTS, you can generate a report. Otherwise, you will need to look through your paperwork (check stub, etc.) to determine what amount you paid in tuition for each child.
You will need our official name and address
McDonell Area Catholic Schools, Inc.
1316 Bel Air Blvd.
Chippewa Falls, WI 54729
MACS School FEIN number
39-1032800
Free and Reduced Lunches
Free or reduced lunch is available for all families who qualify under federal guidelines. Applications will be mailed from the MACS Central Office July 2023, and must be returned by August 23, 2023.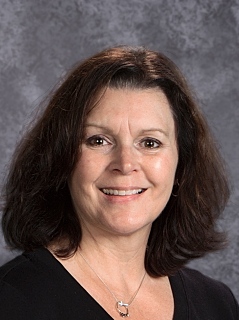 Teresa Dachel
Business Manager
715.723.0538 x3323
Email
"No child will be denied a Catholic education on the basis of financial need."
- A.B. McDonell, donor of the McDonell Memorial High School