4K & Kindergarten Referral Program
Thank you to our current MACS families, our biggest cheerleaders, for referring new families to MACS! Current MACS families, you can earn 10% off your student's tuition for one year by referring a new 4K or kindergarten family to our schools. The new family will receive 10% off for three years.

It's as easy as . . .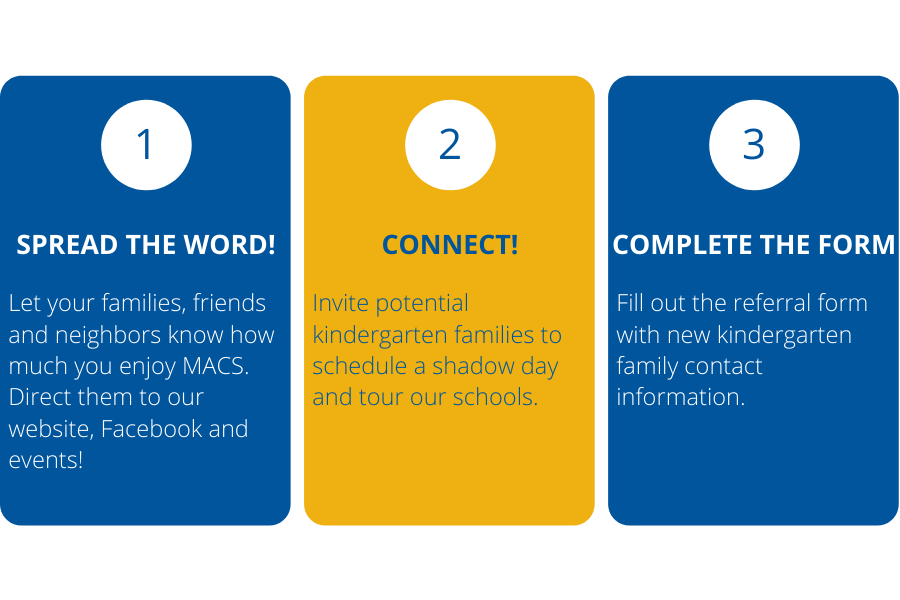 Questions on how the program works:
Q: How does a new kindergarten family schedule a shadow day or a visit?
A: Scheduling a day is easy! Submit the request here.
Q: Where do I find the referral form?
A: Complete the form before the new kindergarten family enrolls or within seven (7) days following their enrollment.
Submit referral here
Q: If I referred a student under the previous referral program, do my credits still apply?
A: Yes! Nothing will change for your family or the family you referred. Referral credits will be applied according to the program terms in effect at the time the referral was made.

Q: Will the new kindergarten family we are referring receive a discount?
A: Yes! If you have filled out the referral form before their enrollment or within seven (7) days following their enrollment, they will receive 10% credit off their kindergarten student's tuition, for three (3) consecutive years enrolled at MACS. All students will pay no less than $500 per year.
Q: Who is considered a "new kindergarten family"?
A: Any family with a student currently not enrolled at a Catholic school and who enroll their new kindergarten student full time with MACS.
Q: When will I receive the credit on my tuition?
A: Referral credit will be awarded to the referring family and the new kindergarten family at the completion of the enrollment of both families, by the beginning of the school year.
Q: Is there a deadline to refer a kindergarten family?
A: Yes. Refer a new kindergarten family for the upcoming school year before August 25, 2023.
Q: If I refer a family after the school year has started and the new kindergarten family decides to enroll anytime during that same school year, will we still receive a credit?
A: Yes! However, the credit will be applied to the following school year tuition statement.