MACS COVID-19 Resources
May 28, 2021
McDonell Area Catholic Schools is pleased to announce its updated pandemic protocols for summer 2021 MACS activities (May 29 - August 29). [Attached/below] is a chart with the details of our "MACSafe Summer" summer protocols, which replace our previous Brick to Click guidelines.
After careful consideration, we believe that we can prudently adjust our prevention strategies due to a variety of factors, including:
Research findings showing a lower risk of infection and serious illness for elementary age children and low rate of transmission in schools
Widespread availability of vaccine to individuals age 12 and up
High rates of vaccination among our MACS staff
Reduced levels of community transmission
The CDC recommends layering at least two prevention strategies. The MACS Pandemic Committee has elected to continue two primary strategies: (1) handwashing and respiratory etiquette; and (2) cleaning and ventilation/air quality. We will also continue to cooperate with contact tracing of positive cases if necessary. Please see the chart for complete details.
Thank you for your partnership in education and please join us in praying for a happy, healthy summer break!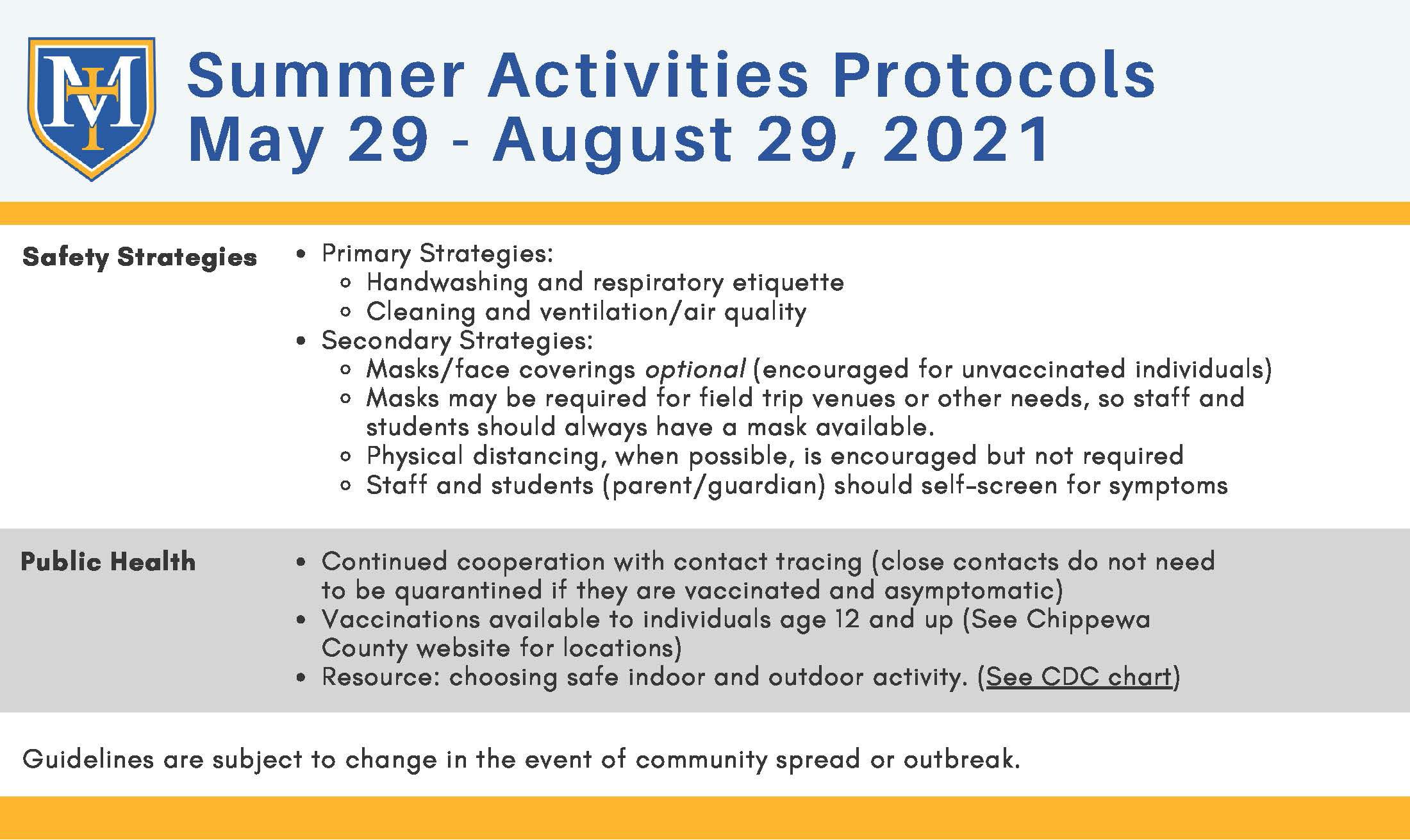 ---
May 20, 2021
Update to our Brick to Click masking policy for vaccinated adults at school events.
According to updated guidance from the Centers for Disease Control and Chippewa County Department of Public Health, individuals who are fully vaccinated against COVID-19 can:
1. Return to activities without masking or physically distancing.
2. Skip testing and quarantining after close contact with someone with COVID-19 (unless they have symptoms, other exceptions apply)
The CDC and CCDPH recommend that K-12 schools continue masking and physical distancing until the end of the 2020-21 school year, due to the fact that very few students are fully vaccinated.
However, outside of the school hours, adults who are fully vaccinated against COVID-19 are no longer required to mask or physically distance themselves at any MACS facility or event. Signage stating "Masks required" does not apply to fully vaccinated adults in these circumstances.
According to the Chippewa County Department of Public Health vaccine page:
1. Anyone ages 12 or older may now receive the COVID-19 vaccine.
2. The vaccine is free of charge to all people living in the United States, even if the person does not have health insurance.
---
CDC updates as of May 13, 2021

Interim Public Health Recommendations for Fully Vaccinated People

Until further notice, MACS' policy will not change because we have not recorded or confirmed any staff or student's vaccination status, and it stands to reason that only a small minority of students 18+ are fully vaccinated as of now.
---
CDC updates as of April 22, 2021
Information about safety of activities for vaccinated individuals. What you need to know:
If you are fully vaccinated, you can start doing many things that you had stopped doing because of the pandemic.
When choosing safer activities, consider how COVID-19 is spreading in your community, the number of people participating in the activity, and the location of the activity.
Outdoor visits and activities are safer than indoor activities, and fully vaccinated people can participate in some indoor events safely, without much risk.
Vaccinations are now widely available to most people 16 and up.
---
Mask Policy Update
At the time MACS' original Brick to Click plan was released in the summer of 2020, the State of Wisconsin had issued a mask mandate. The statewide mask mandate was lifted on March 31, 2021. Our MACS Pandemic Committee met on April 6 to consider revisions to our mask policy, as stated in our Brick to Click plan. Upon careful consideration, MACS will continue to require face coverings, in most situations, for the remainder of the 2020-21 school year. However, we are modifying our mask protocols to permit limited exceptions, as stated below.
Updated Face Covering Protocol for Staff and Students (effective April 12, 2021):
Face coverings/masks are an effective precautionary measure against COVID-19, and should be properly used and cleaned.
All MACS staff and students have been provided with washable, reusable face masks. Replacement masks are available upon request. If personal masks are worn, designs should be in the spirit of the MACS dress code (e.g. no offensive/distracting wording or graphics).
Face covering protocols at MACS:

Acceptable face coverings must be worn by all staff and students in Grades 4K-12, especially while in common areas, upon entry and exit of the building, and during passing times. Teachers or other staff in charge have discretion to make exceptions for students under their supervision, i.e. "mask breaks". Examples of permissible mask breaks:

Physical education class or exercise (unless required by coach or WIAA rule), band, meal and snack times
In the classroom for extended time periods, especially when seated at a 6 foot distance from others
While outdoors, e.g. recess or outdoor class time

All 4K-12 students must follow the instructions of their classroom teacher or staff member in charge as to when it is appropriate to wear/not wear face masks in the classroom.
Acceptable face coverings must be worn by Early Childhood staff while in common areas (e.g. administrative office, cafeteria, hallways). Face coverings are optional for staff while caring for children in Early Childhood classrooms serving exclusively children ages 4 and under.
Face masks should never be worn by individuals two (2) years of age or younger or by anyone who is having trouble breathing, is unconscious, or incapacitated.
An individual with a documented health condition that makes a face mask unsafe (e.g. severe asthma) may wear a face shield as an alternative to a mask.
As always, thank you for your partnership in the education of your children! May God bless you in this Easter season.
---
Bishop Callahan Mask Mandate Update March 31, 2021
Letter encouraging charitable act offered for others.
---
CDC's Updated School Guidance (CCDPH) March 29, 2021
Printable version of the guidance document below (pdf)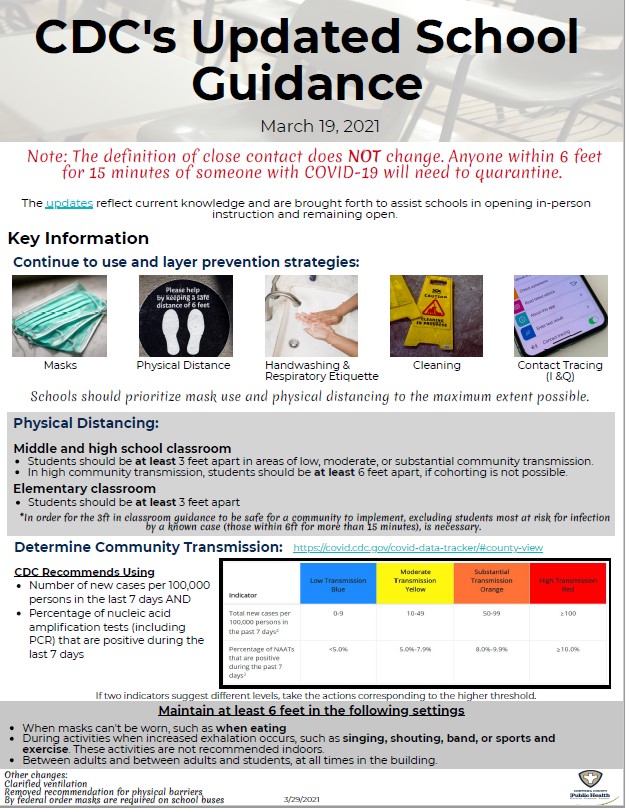 ---
MACS Brick to Click 2020-21 Fourth Quarter Updates (March 29 - May 28)
The MACS Brick to Click plan remains in effect through the remainder of the 2020-21 school year, with updates noted below. Spring and summer activities and events are underway or in planning stages and will be much closer to normal than last year. Stay tuned! Thanks be to God!
Instructional Mode
In-person instruction will continue at all MACS schools Grades K-12
Virtual learning is available for quarantined or at-risk students, must be requested of the principal.

Virtual instruction is available for COVID-related reasons only, i.e. when the student is in isolation or quarantine, or the family is concerned for the health of the student or a member of that student's household.
When a student is unable to attend school due to illness per MACS' Brick to Click policy, virtual instruction will be available to that student starting approximately 24 hours after the school is notified of the absence or sends the child home. The first full day will be treated as a normal sick day, with work sent home that day or the following.
Screening Reminders
Parents and guardians must screen their child(ren) for any possible COVID-19 symptoms or exposure before sending them to school each day. If a student has any symptoms, they must be reported to the office and/or daily screeners at that student's school (or MACS shuttle bus).
Personal Space: Physical Distancing
Based on evidence, CDC has reduced its recommendations to three feet between students in classrooms (exceptions apply - details can be found here under "Physical Distancing") as of March 19, 2021.
Isolation/Quarantine Guidelines for Close Contacts and Positive Cases
Quarantine for close contacts will return to the 14/10/7 day framework on the chart below for grades 4K - 12.

Some close contacts do not need to quarantine (unless they are symptomatic):

Fully vaccinated individuals are considered immune and do not need to quarantine
Those who have tested positive for COVID-19 do not need to quarantine within 90 days from their symptom onset/positive test (documentation of positive test is required)

Isolation release/return to school dates for individuals who test positive for COVID-19 will be determined according to the CCDPH policies, with two exceptions:

If the individual is a resident of another county and the county of residence provides a later return date than our calculation, we will use the later date.
MACS will use the date the individual first reported symptoms to MACS as the symptom onset date. You must report symptoms when they happen, not after the fact.
St. Charles Early Childhood Center and St. Charles Supers will stay at 14 day quarantine.
---
Printable version of chart for close contacts without symptoms.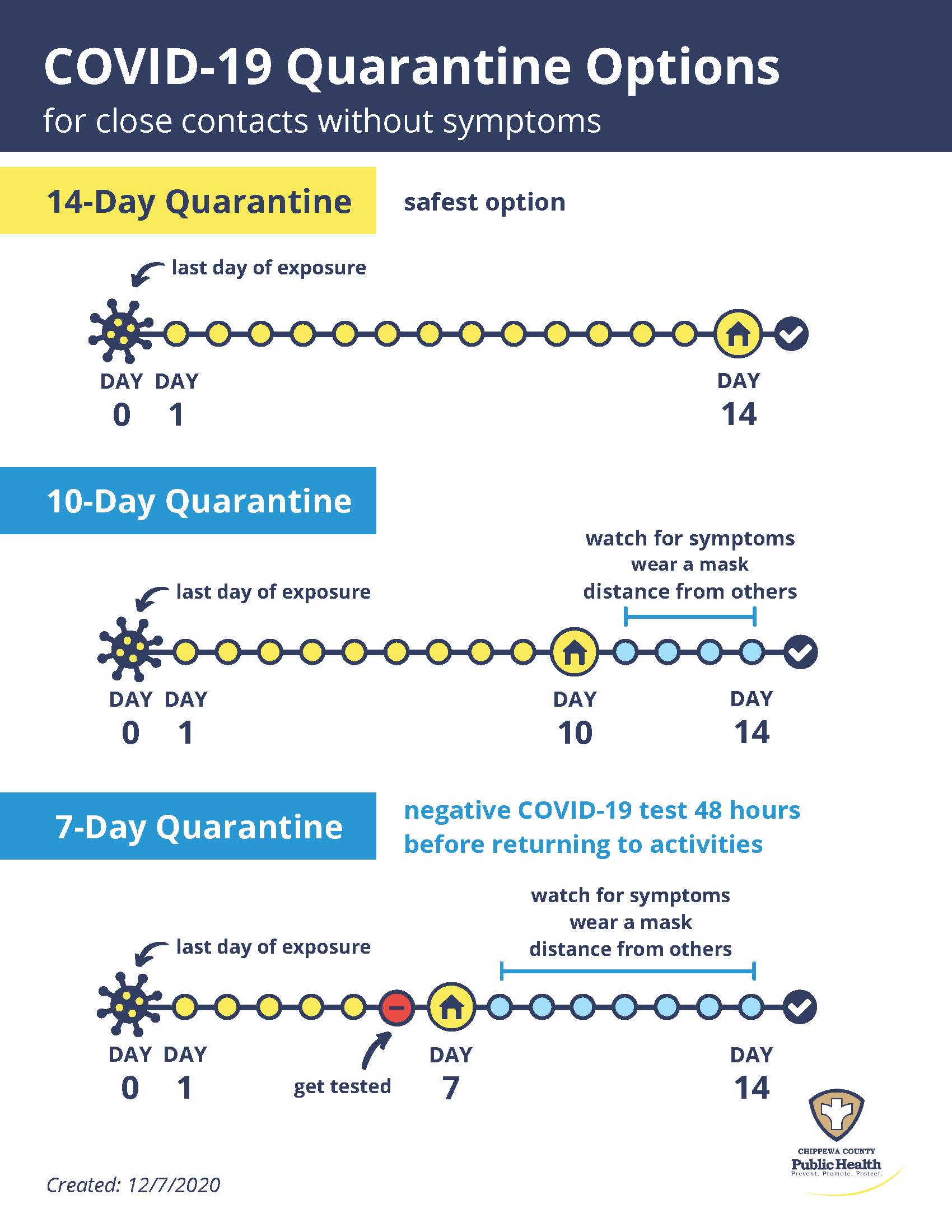 If symptoms develop, self-isolate as soon as possible and contact a healthcare provider or Public Health.
---
Q. When does my child or family member need to stay home when showing symptoms, and when can we return?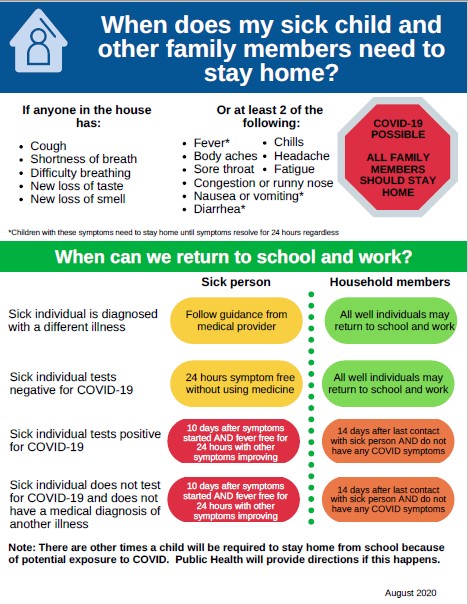 Q. What if someone in my household has the virus?
Printable version (pdf) of chart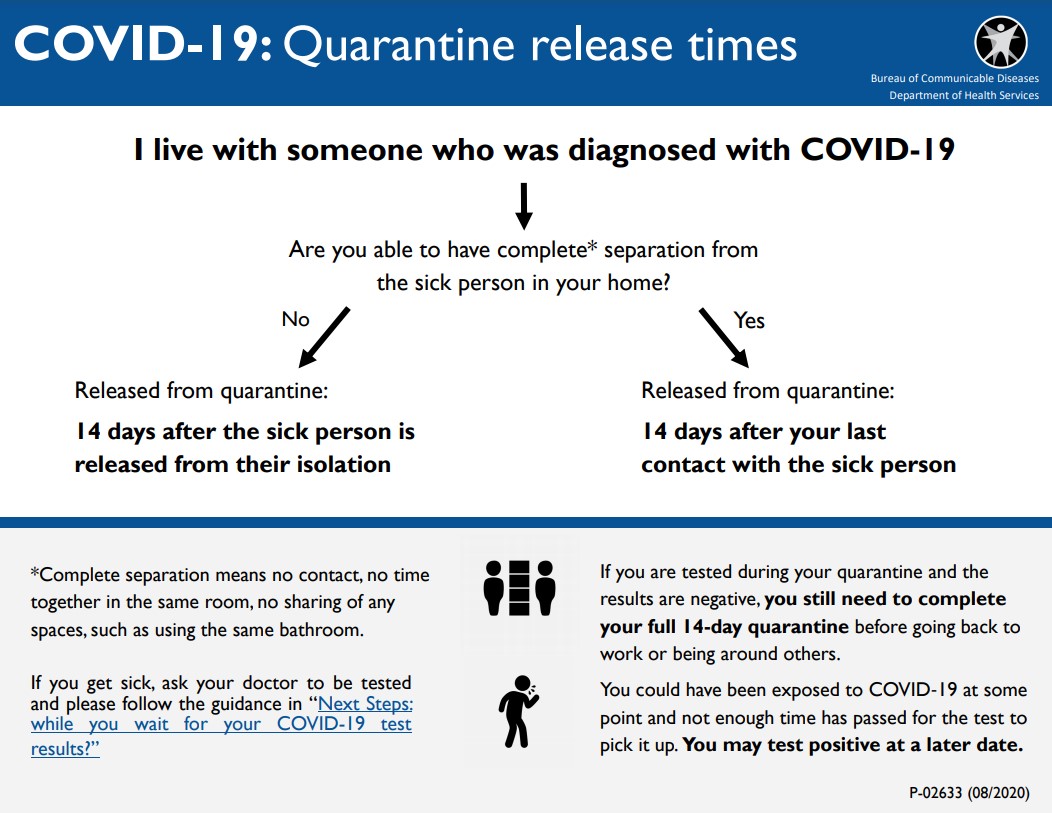 A. Grades 4K-12 shorten quarantine "Next Steps after exposure to someone with the virus", three page handout with a monitoring chart. (pdf)
Q. How important are masks for prevention/protection?
A. Click here for Mayo Clinic research.

MACS Masks for sale
We have available for purchase by clicking on this link:
Adult masks $10 (sizes S/M or L/XL)
Youth Masks $10 (size 7/12)
Child Masks $10 (sizes 4/6)
Lanyard $5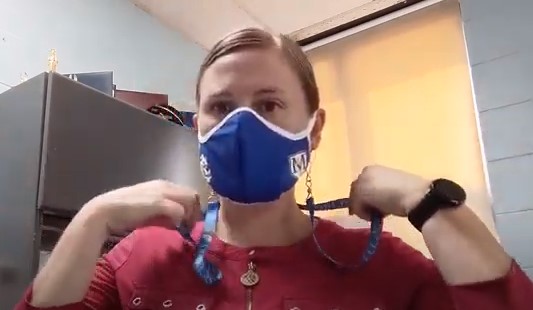 ---
Centers for Disease Control and Prevention
COVID-19: Checklist to Guide Parents, Guardians, and Caregivers
Mental Health
Student: Want to know how to help a friend?

Support a loved one going through a tough time.

Potential Exposure
Symptoms information:

Wisconsin Department of Health Services
Exposure information:
---
As we continue to navigate the challenges of the COVID-19 pandemic, we want you to know we are 100% committed to continuing our mission in mind, body, spirit, and community.
Thank you! To our parents, teachers, staff, and students, we are so thankful for you always. God bless you! May the gifts of the Holy Spirit shower upon you and bear fruit that will last unto eternal life.
Infinite Campus Parent and Student Portal
---
Technology Help Desk
Please contact our IT Department at this email.
---
Faith Resources
Feb 26, 2021 Celebration of Mass
Unless local regulations direct otherwise, it is the pastor's decision to move churches from the 25% occupancy limit to the 50% occupancy limit.
MACS K-12 Campus Ministry Google site
Chaplain Father Ethan Hokamp's YouTube Channel

Very Rev. Justin Kizewski's Collar Commentary YouTube Channel
---
Meals Available
Breakfast and lunch meals will be provided for free through the 2020-21 school year. If you would like to pick up a sack breakfast & lunch meal for your child(ren) please contact Director of Food Service Deacon Dan Rider at: EMAIL
Free meal service available (packed lunch and breakfast for the following day) to ALL MACS students ages 3 to 18 years.
For Chippewa Falls Community children.
Sack breakfast and lunch pickup
---
Community Connected
Food Pantry Locations
Chippewa County Food Pantry times and days revised April 2020 (pdf)
---
Stay Active & Healthy
MackFit Resources Google site for all MACS families and athletes.
Advice to protect your family's health during this pandemic.
If you have any sport specific questions, please contact our Athletic & Activities Director Emily Mallek.
---
Follow MACS on Social Media
Facebook @McDonellAreaCatholicSchools
McDonellAreaCatholicSchools.org
Our prayers continue for the intentions of our MACS community during this challenging time.