MACS COVID-19 Resources
Q. When does my child or family member need to stay home when showing symptoms, and when can we return?
Updated Symptoms Handout from Public Health Image below print version (pdf)
A.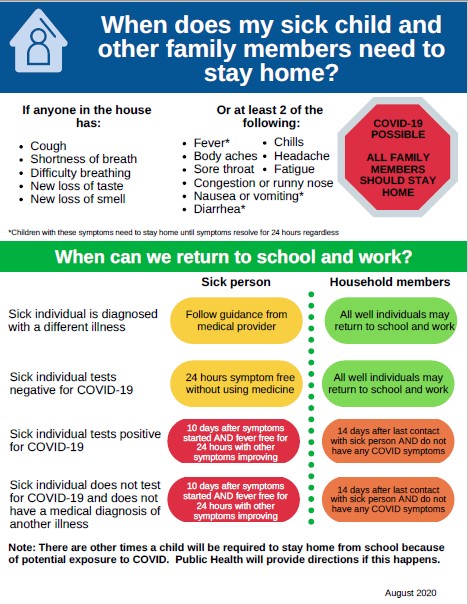 Q. What if someone in my household has the virus?
Printable version (pdf)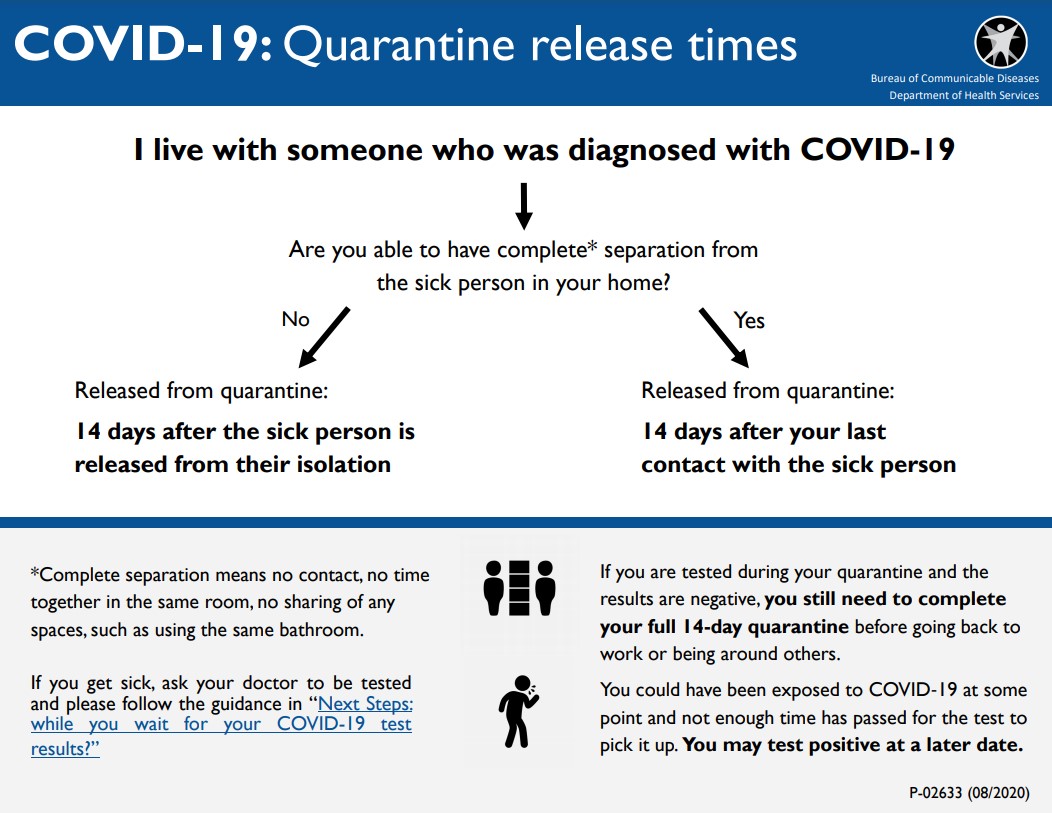 Q. What if I or my child has been in close contact with someone who tested positive?
A. Next Steps with a Close Contact 3 page handout. (pdf)
Q. Where can we go to get tested for free?
A. A free (no insurance needed) COVID-19 testing site (with less invasive nasal swabs) staffed by the Wisconsin National Guard in Eau Claire until December 7, 2020.
Mondays and Fridays: 11:00 AM to 7:00 PM
Saturdays: 9am to 5pm
6415 U.S. Highway 12, just off the North Crossing (Highway 312) on Eau Claire's north side
Anyone with COVID-19 symptoms
Anyone who has had close contact with someone who tested positive (people who have been asked to quarantine)
Parents must be present to consent to testing for people age 5-17.
REGISTER: Register on the day or your test online at https://register.covidconnect.wi.gov/
---
October 6, 2020
Governor Evers signed Emergency Order #3 limiting public gatherings to no more than 25 percent of a room or building's allowed occupancy. The order begins October 8, 2020 and will remain in effect until November 6, 2020.
Childhood Centers and schools are exempt from this order.
---
August 24, 2020
Each of our students are receiving a MACS branded mask and lanyards to start off the school year. Please be sure to label both with your student's name.
Masks and lanyards are available for purchase by clicking on this link.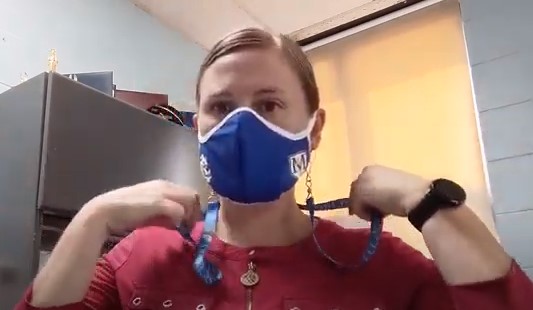 ---
August 3, 2020 Message
On August 31, 2020, McDonell Area Catholic Schools will open its doors to students from grades K to 12, in person. MACS will also provide a virtual option for students with high-risk health concerns.
MACS has released its 2020-21 Back to School "Brick to Click" Parent & Student Guide, which has been approved by the Chippewa County Department of Public Health and the MACS Education Commission. Parent and teacher survey responses were an important part of the plan's development, with parents and teachers also serving on the MACS pandemic team.
"Brick to Click" means that MACS will begin school in person but will be prepared, if necessary, to transition seamlessly to virtual learning. MACS' virtual learning preparation plan includes 1:1 devices for all students K-12, streamlining its virtual learning platforms, and professional development for teachers to improve the overall experience of virtual learning for students and families. Digital learning and citizenship skills for students are also being incorporated into the curriculum.
The MACS guide includes several strategies to keep staff and students healthy and in school, including: (1) hand washing/sanitizing; (2) facility cleaning/disinfection; (3) screening at entry; (4) class/cohort grouping; (5) physical distancing; and (6) use of face coverings/masks (following current state order), which will be provided to all staff and students.
MACS President Mrs. Molly Bushman expressed her gratitude to the MACS' pandemic team and emphasized MACS' commitment to serve students and families throughout this pandemic.

"Our goal is not merely to start the year in school, but to stay in school. We hope to balance necessary precautions with the need for kids to be kids, through time with friends, staying active, praying, or just enjoying a meal together," stated Mrs. Bushman, "While anxiety and a fear of the unknown is normal in these strange times, I can't help but feel a sense of excitement as we gear up to be ready for fall. With faith, hope, courage, and solidarity, our MACS family will emerge from these challenging times stronger than ever. 'For God, all things are possible'. (Mt. 19:26)"
Back to School: "Brick to Click" Parent and Student Guide
---
On July 30 Governor Evers issued Emergency Order #1, which is a statewide mandatory face mask/covering order going into effect on Saturday, August 1.
Read the entire emergency order.

Generally, the order requires face coverings for everyone age 5 and older when in enclosed spaces, with some exceptions, including while eating and drinking. However, at this time, there is no exception for indoor physical activity/exercise.
What does this mean for summer activities at MACS? Effective Saturday, August 1:
Mackademia summer school will continue as planned; however, all staff and students age 5 and older will be required to wear face coverings.
Camp Macks early childhood program will continue as planned; however, all staff and students age 5 and older will be required to wear face coverings.
MackFit strength and conditioning program will continue, but will be limited to outdoor activities.
All other outdoor athletic activities may continue, but indoor athletic activities are suspended until Monday, August 10. Additional information will be released next week.
Reusable/cotton face masks will be available for all participants in Mackademia and Camp Macks if they do not have a mask they can wear from home.
---
Centers for Disease Control and Prevention
COVID-19: Checklist to Guide Parents, Guardians, and Caregivers back to school planning
Mental Health
Student: Want to know how to help a friend?

Support a loved one going through a tough time.

Potential Exposure
Any potential exposure alerts from the Chippewa County Department of Public Health will be posted here.

Exposure Definition: When someone who may have been sick with the virus was in contact with people for more than 15 minutes at a distance of less than 6 feet, and those contacts can't be identified/followed up with. Exposures are an indication of risk, not of widespread illness.
Symptoms may develop 2-14 days after exposure, so please continue monitoring yourself/family.
Symptoms of COVID-19 include:
Fever or chills
Cough
Shortness of breath or difficulty breathing
Fatigue
Muscle or body aches
Headache
New loss of taste or smell
Sore throat
Congestion or runny nose
Nausea or vomiting
Diarrhea
Symptoms information:

Wisconsin Department of Health Services
Exposure information:
---
As we continue to navigate the challenges of the COVID-19 pandemic with our school buildings closure, we want you to know we are 100% committed to continuing our mission in mind, body, spirit, and community.
Thank you! To our parents, teachers, staff, and students, we are so thankful for you always. God bless you! May the gifts of the Holy Spirit shower upon you and bear fruit that will last unto eternal life.
Infinite Campus Parent and Student Portal
Fall planning is underway for the 2020-21 school year.

---
Technology Help Desk
Please contact our IT Department at this email.
---
Faith Resources
MACS K-12 Campus Ministry Google site
Chaplain Father Ethan Hokamp's YouTube Channel

Very Rev. Justin Kizewski's Collar Commentary YouTube Channel
Bishop Callahan gives his congratulations to the graduating class of 2020
Final week episode for Kids
E10 for Kids Phineas and Ferb and Pentecost - Father will let you know how many days of summer vacation you have!
---
Meals Available
See this link for location of summer meals:
https:www.fnd.usda.gov/summerfoodrocks

Thank you to Deacon Rider, food service staff, and the many volunteers who helped with the preparation and distribution of take-out sack lunches and breakfasts during our last quarter of school.
Food Pantry Locations
Chippewa County Food Pantry times and days revised April 2020 (pdf)
---
Stay Active & Healthy
MackFit Resources Google site for all MACS families and athletes.
Advice to protect your family's health during this pandemic.
MACS in Motion Video thank you students and families for submitting your MACS moments of staying health!
McDonell summer athletic events and activities are temporarily on hold until July 1. If you have any sport specific questions, please contact our Athletic Director Emily Mallek
---
Community Connected
WI Outdoor Recreation Guidelines - May 11, 2020 (pdf)
This guide for businesses will help you understand what they will be asking of customers as we move into summer months with both indoor and outdoor activities, such as camp sites.
Cloth Masks
HSHS St Joseph's, Sacred Heart Hospitals, and Fire/EMS will accept cloth face masks during the COVID-19 outbreak. If you sew, consider sewing face masks.
These masks will be used in accordance with CDC guidelines.
The following criteria must be followed:
Festival Foods: 2717 Birch St., Eau Claire
Festival Foods: 3007 Mall Dr., Eau Claire
Festival Foods: 2615 N. Clairemont Ave., Eau Claire
Family Fare: 212 E. Bay St., Chippewa Falls
Family Fare: 17158 County Highway J, Chippewa Falls
Chippewa Falls Fire/EMS Station: 1301 Chippewa Crossing Blvd
Food Pantry Locations
Chippewa County Food Pantry times and days as of April 2020 (pdf)
---
Follow MACS on Social Media
Facebook @McDonellAreaCatholicSchools
McDonellAreaCatholicSchools.org
Our prayers continue for the intentions of our MACS community during this challenging time.