MACS COVID-19 Resources
August 03, 2022
Letter to parents from President Molly Bushman
Please monitor for the following symptoms and keep students home when needed:
Fever (100.0° Fahrenheit or higher), chills, or shaking chills
Difficulty breathing or shortness of breath
New loss of taste or smell
Muscle aches or body aches
Cough (not due to other known cause, such as chronic cough)
Sore throat, when in combination with other symptoms
Nausea, vomiting, when in combination with other symptoms
Headache, when in combination with other symptoms
Fatigue, when in combination with other symptoms
Nasal congestion or runny nose (not due to other known causes, such as allergies), when in combination with other symptoms
Please note the following process when your child tests positive: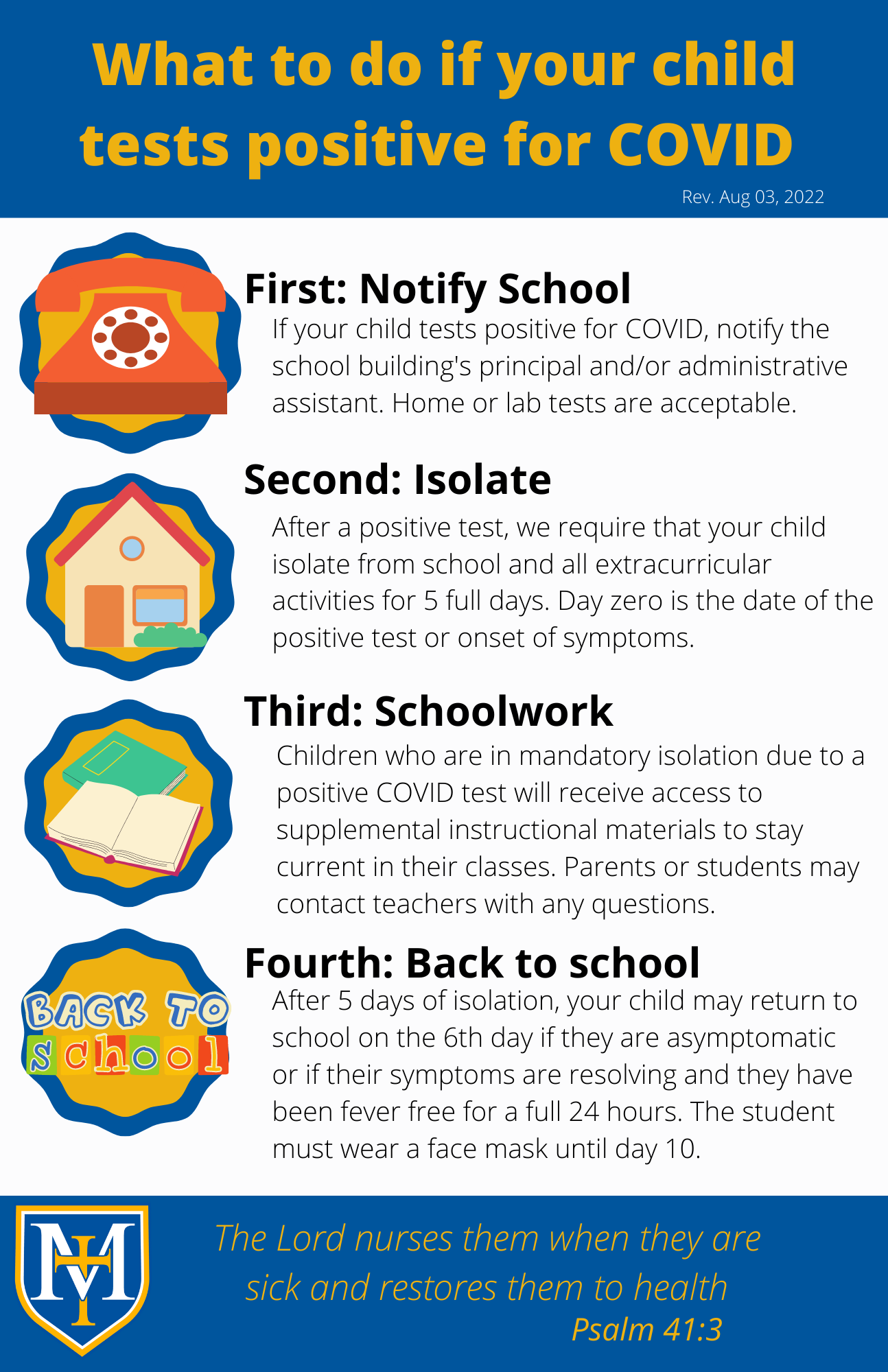 Printable Poster Here
Please note face masks are not required but are permitted if an individual chooses to mask. For field trips or extracurricular activities, the requirements of the venue or sponsoring organization will be honored.
---
May 10, 2022
In light of a downward trend in COVID cases and updated public health guidance, please note that masks will no longer be required on school transportation and "masks recommended" signage will be removed from our buildings. Staff, students, and visitors are still welcome to wear masks, if they wish to do so based on each person's individual comfort level.
Please continue to practice The Mack Way through Respect, Reverence, and Responsibility by keeping students home when sick, praying for health and wellbeing, and being aware of public health conditions and recommendations that may apply to your travel plans.
---
December 22, 2021
DHS Issues Public Health Advisory about the Omicron Variant
---
November 11, 2021
5-11 Year-Old Vaccines now Available
The COVID-19 Pfizer vaccine is now available in Wisconsin for children aged 5-11 years old. Appointments for all vaccine types, including Pfizer for 5–11 year-olds, are available at vaccinate.wi.gov.
Starting November 12, the regional community vaccination site at Jacob's Well in Lake Hallie will be providing Pfizer vaccines for ages 5-11 with extended hours of operation, 11:00 a.m. - 4:00 p.m.
For more information on COVID-19 and vaccines for kids visit dhs.wisconsin.gov and see the flyer below.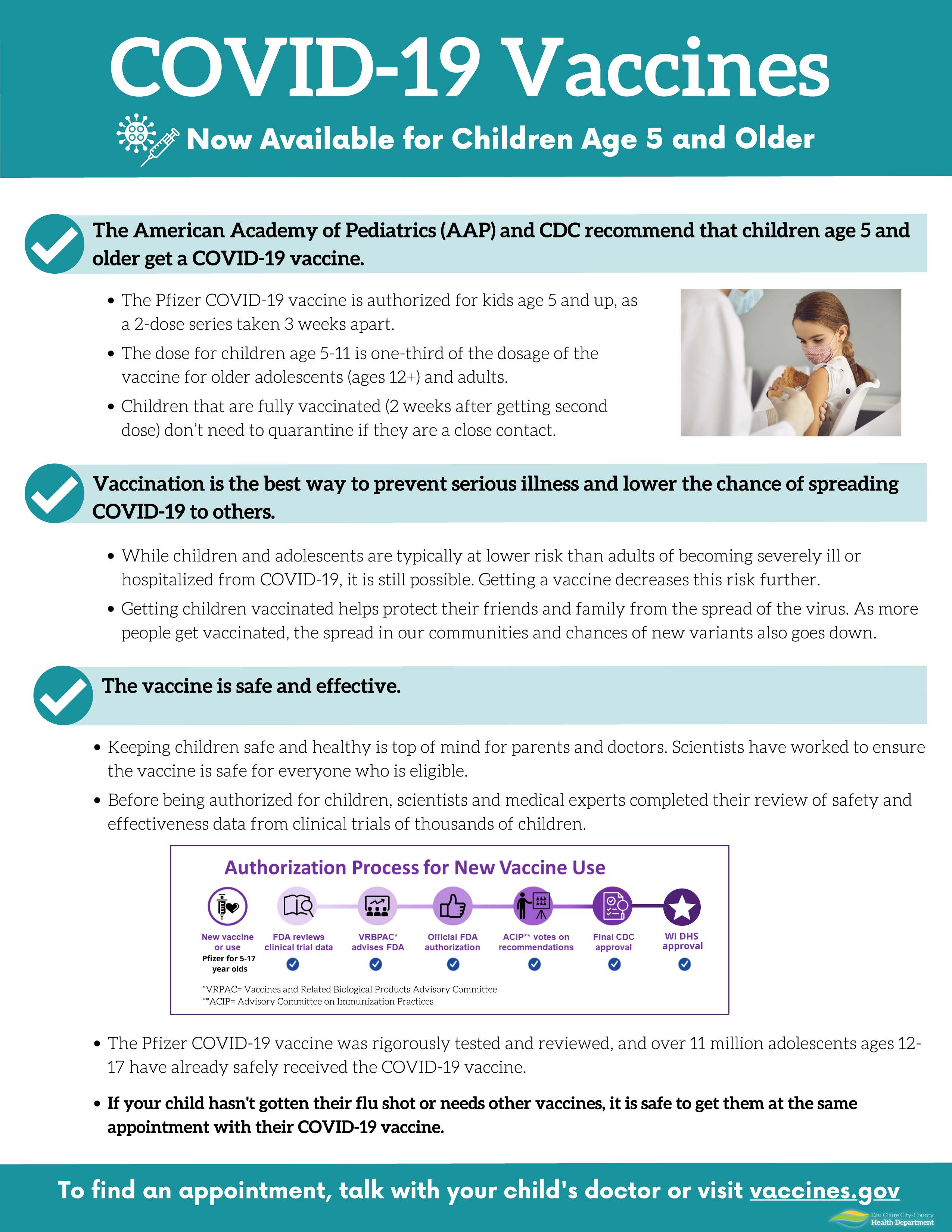 ---
August 25, 2021
August 2021 MACS ComeBack FAQ
Q: Is MACS encouraging vaccination against COVID-19?
A: Yes, MACS encourages all families to consider vaccination for eligible students. However, we will not be collecting or tracking vaccination status. We respect parental choice and student privacy.
Q. Why is MACS recommending vaccination?
A. Vaccination is considered the most critical strategy for schools to offer safe in-person learning during this pandemic. Vaccines are widely available to ages 12 and up and are free of charge to everyone. The WIAA is strongly recommending vaccination for all student-athletes. Go to vaccines.gov for more information.
Q: Are face masks required to be worn at MACS schools?
A: No, face masks are optional, but strongly encouraged for unvaccinated individuals. (CDC mask recommendations HERE.) However, ALL students and staff are required to have a mask available to them at school in a secure, sanitary, and easily accessible location, e.g. their locker, desk, or backpack. Please contact the MACS Central Office at (715)723-0538 if you would like to request a mask for your student.
Q. Why isn't MACS requiring face masks at this time?
A. As with vaccines, MACS respects the right of parents to make this decision for their own children. We are certainly not anti-mask and encourage all to be aware of current public health recommendations and risks. Compared to last year, the vaccine is widely available to individuals ages 12+ COVID-19 continues to pose a minimal risk to elementary age children. We are layering four CDC-recommended prevention strategies system-wide and we are continuing to enforce physical distancing and cohort grouping at grades K-5. Additionally, based on community feedback, masks were the least favorable of all the prevention strategies available to us. Given the conflicting data and reasonable disagreements surrounding masks, to mask or not to mask is the decision of the parent/guardian at this time. Please choose wisely.
Parents - if your student has tested positive for COVID, you must keep them home from school. The virus is very contagious and sending a student to school inappropriately puts other families at risk.
Note: Our layered prevention strategies are reviewed weekly by our pandemic committee, with consideration of current public health information and school data. All strategies are subject to change on a weekly basis.
As always, we rely on both faith and reason to educate our students and navigate life's challenges! Please join us in continuing to pray for a great start to the school year and the protection of our school community.
---
July 30, 2021
On July 30, McDonell Area Catholic Schools released the 2021-22 Back to School "MACS ComeBack" Parent & Student Guide. MACS will return to five(5)-day (full-time) in-person instruction during the 2021-2022 school year. By relying on the Lord in prayer, listening to our community, and reflecting on lessons learned, our approach to the 2021-22 school year is to welcome students back to school in a normal learning environment, with continued vigilance. Guided by the Holy Spirit and supported by your prayers, we will continue to serve our students and growing community. "Our help is in the name of the Lord, the maker of heaven and earth" (Psalm 124:8).
We promise to: (1) Communicate openly with our MACS Community, including maintaining our COVID-19 Resources webpage; (2) Monitor school and local transmission of COVID-19 and variants in collaboration with Chippewa County Department of Public Health (CCDPH); and (3) Most importantly: support the physical, mental, and spiritual health of our staff and students. The MACS Pandemic Committee will continue to meet on a regular basis.
We would like to again thank our MACS parents, the pandemic team, and our MACS staff, all of whom have prayerfully collaborated to serve students and families throughout this pandemic and recovery. We are so excited about the MACS ComeBack!
---
June 22, 2021
Lifting of dispensation from Sunday Mass (pdf)
---
Q. How important are masks for prevention/protection?
A. Click here for Mayo Clinic research.
Mental Health
Student: Want to know how to help a friend?

Support a loved one going through a tough time.

Potential Exposure
Symptoms information:

Wisconsin Department of Health Services
---
As we continue to navigate the challenges of the COVID-19 pandemic, we want you to know we are 100% committed to continuing our mission in mind, body, spirit, and community.
Thank you! To our parents, teachers, staff, and students, we are so thankful for you always. God bless you! May the gifts of the Holy Spirit shower upon you and bear fruit that will last unto eternal life.
Infinite Campus Parent and Student Portal
---
Technology Help Desk
Please contact our IT Department at this email.
---
Faith Resources
Chaplain Father Ethan Hokamp's YouTube Channel
---
Stay Active & Health
Advice to protect your family's health during this pandemic.
If you have any sport specific questions, please contact our Athletic & Activities Director Alexis Landherr.
---
Follow MACS on Social Media
Facebook @McDonellAreaCatholicSchools
McDonellAreaCatholicSchools.org
Our prayers continue for the intentions of our MACS community during this challenging time.