BB4C - 4K
COVID-19 Remote Learning
Our BB4C (4K) partner site is starting remote classes. Parents should be logging into Google Classroom through your personal email address and using the code provided by the teacher.
---
New this year! BB4C has moved to online enrollment. Please call our center at 715.723.2161 for information and to walk through the steps on the FREE 4 year-old kindergarten enrollment.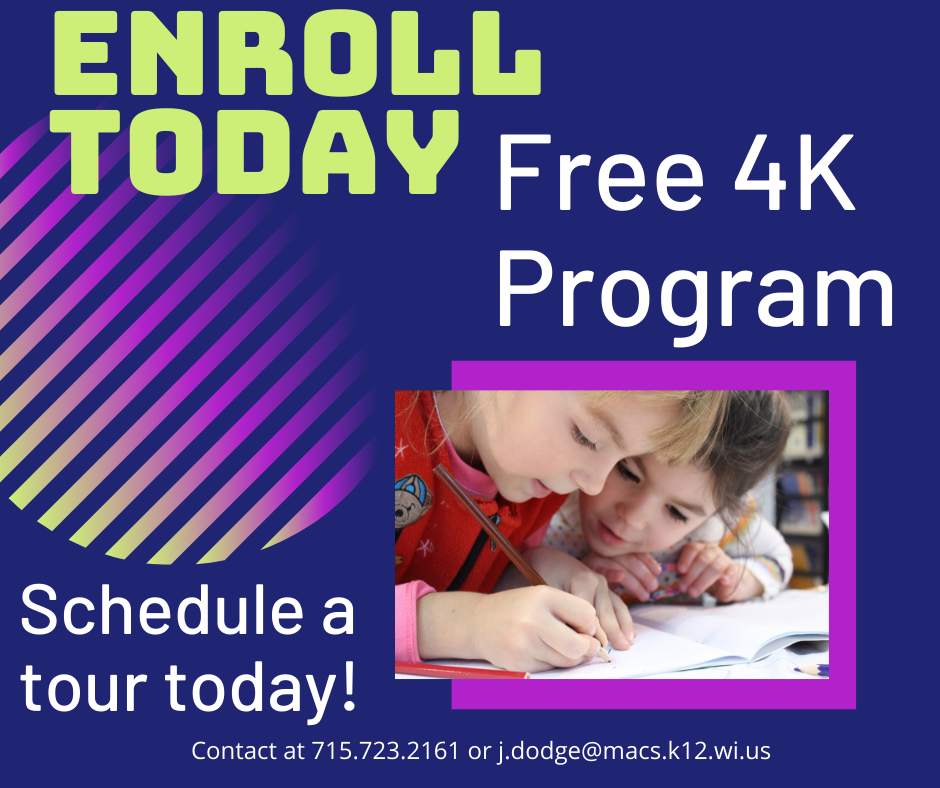 The Chippewa Falls Unified School District partners with McDonell Area Catholic Schools to provide a quality four-year-old kindergarten program. This collaboration makes services and resources accessible to more families, improves the quality of the programming, and supports the belief that "the entire community is responsible for growing our children."
BB4C teachers are certified by the Wisconsin Department of Public Instruction (DPI) in Early Childhood Education and use developmentally appropriate curricula to help children learn. The Creative Curriculum, Second Step, DECA, and Tribes provide a base from which appropriate practices for early childhood education are fostered and enable children to direct their own learning. The use of this curricular base also helps to build children's social and emotional health and well-being, and supports the Wisconsin Model Early Learning Standards (WMELS) which are Wisconsin Department of Public Instruction standards that align with K-12 learning standards.
BB4C follows the CFUSD public school calendar and offers the morning sessions between 7:45 and 11:05 AM and afternoon sessions between 11:45 and 3:05 PM District bus transportation is available for all children who do not use wrap-around care services.
Enroll ONLINE!!
Please stop by our Early Childhood Office to pick up the online enrollment form.
Live outside the school district of Chippewa Falls? Make sure to complete the open enrollment application here.
What is Open Enrollment?
The inter-district public school open enrollment program allows parents to apply for their children to attend public school in a school district other than the one in which they reside.